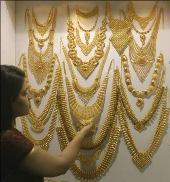 Gold failed to sparkle on Thursday on Dhanteras, biggest gold buying festival in the country, with prices softening by Rs 170 to Rs 16,080 per 10 grams as retail buyers shied away from buying the precious metal at the existing high levels.
Traders said buying activity in domestic markets declined sharply as retail customers refrained from making purchases in gold, after it surged to an all-time high of Rs 16,250 per 10 gram in the previous session.
They said the fall in demand was also triggered by the precious metal's slide in the overseas markets.
Even though the bullion is in the middle of the festival season -- Dhanteras and Diwali -- considered to be an auspicious time for making new purchases in gold, high prices kept purchasers on the sidelines, looking for an opportunity at lower levels, Delhi-based jeweller Rakesh Anand said.
In London, gold prices declined for a second day as the metal's rally to a record prompted some investors to lock in gains.
The metal had reached an all-time high of 1,070.80 dollar an ounce yesterday, but lost 6 dollar to end at 1,056.40. The weakening trend was extended in silver and its coins on reduced offtake.
Buying in silver and silver products like coins also dried up as rising prices shifted retail customers to purchase new steel utensils to mark the festivals.
Silver ready fell by Rs 300 to Rs 27,300 per kg and weekly-based delivery by Rs 310 to Rs 27,320 per kg.
Silver coins lost Rs 100 to Rs 32,800 for buying and Rs 32,900 for selling of 100 pieces.
Standard gold and ornaments fell by Rs 170 each at Rs 16,080 and Rs 15,930 per 10 gram respectively. Sovereign continued to be asked at last level of Rs 13,000 per piece of eight gram.