You are watching a movie and in that a well-dressed gentleman, arrives in an expensive car and alights in front of a building whose doors are flanked with mercenary-looking guards. The gentleman walks inside and is met by a distinguished-looking elderly gentleman, to whom a series of numbers are rattled off. The man is then ushered into a vault-like facility. Welcome to the stereotypical depiction of a Swiss bank.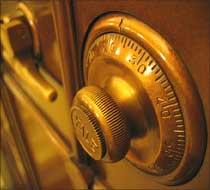 When you think about Swiss bank accounts, words like mysterious, secret, guarded, rich and out-of-league come to a person's mind. What many don't know is that Swiss banks are just like any bank in the world. Here are some myths which need to be shattered about Swiss bank and bank accounts.
Swiss banks only service the filthy rich
Nothing is further than the truth. Majority of a Swiss bank's clients are not major manufacturers, movie stars or heirs of businesses, but everyday people like you and me. You can open a Swiss bank account with a deposit of only 5,000 Swiss francs. Swiss banks even offer accounts with no minimum balance.
No interest on money invested
Absolutely wrong! Just like any other bank, Swiss banks also have a variety of investment options such as mutual funds, stocks, bonds, commodity and derivatives investment etc. Swiss bankers are among the best finance managers in the world, so it comes as no surprise that they manage over 35 p[er cent of offshore holdings. Moreover, owing to a very consistent financial stability in Switzerland, your money is much better handled here.
Swiss banks are financial havens for criminals
Nothing can beat this rumour. However, for people who are unaware, Swiss bank accounts have very stringent policies on who invests money in the bank. The vast majority of Swiss bank account holders are honest people who want to keep their savings in a country renowned for its stability. Swiss banks are extremely cautious regarding politicians who wish to open an account and they systematically refuse to accept any money that is of dubious origin.
Numbered accounts guarantee anonymity
There is nothing like anonymity in Swiss banking terminologies. On the other hand, there are very strict rules over client-banker confidentiality which ensures that the number of fraudulent transactions that can happen with your account are negligible. However, the identity details of numbered accounts are accessible, albeit only to the bank manager and a few select people.
Swiss bank accounts can only be opened in person
Just like any other international bank, Swiss bank accounts can be opened through correspondence as long as you comply with their opening procedures and provide the bank with the necessary documents. Moreover, all other banking facilities such as telephone banking, Internet banking, bank transfers and credit cards are available in the kitty of a Swiss bank's services.
Swiss bank accounts are very expensive to maintain
This is not true. Most of the Swiss bank accounts don't charge a cent in annual fees. Even if you would like additional services such as retained correspondence or numbered banking relations, the annual fees are very reasonable.
But why would anyone want to open a Swiss bank account if it is like any other?
Well, the answer lies in the privacy (Swiss law prohibits bankers to reveal the existence of your account or any other information about it without your consent; except in criminal proceedings), low risk (Switzerland has an extremely stable economy, well-built financial system and infrastructure for many years and hasn't been at war with any other country since 1505) and returns (Swiss bankers are well skilled in investing and know how to grow your money) features of Swiss bank accounts.