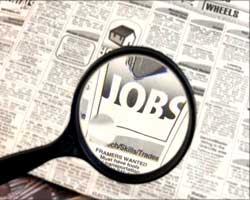 In what could come as good news to job aspirants, the government on Friday indicated some 'noticeable' improvements in the employment scenario in the country which has been hit hard by global recession.
"As per the labour bureau inputs, some improvements are noticeable and there are possibilities of further improvements," labour and employment minister Mallikarjun Kharge told reporters in New Delhi.
He was speaking on the sidelines of a standing labour committee meeting. As per the last quarterly survey conducted by the Labour Bureau for the April-June quarter, India witnessed a whopping 1,31,000 job losses, with the textile, IT/BPO and gems and jewellery sectors being the worst hit.
Prior to that, it had conducted two more surveys. The October-December quarter reported an overall employment loss of half a million jobs while there was some improvement in January to March quarter, with the Bureau reporting an overall employment increase by 2,77,000.
Kharge, on the occasion, released the 'National Policy on HIV/AIDS and the World of Work', a policy document formulated by the ministry which aims at securing the rights of workers infected with the disease.
Talking about the document, Kharge said the policy will strive to educate the masses that no individual suffering from the disease should be deprived or discriminated against in their place of work or in any other field.
The policy broadly seeks to prevent transmission of HIV infections among workers and their families, protect rights of those who are infected and ensure safe migration and mobility with access to information services on HIV/AIDS.
The minister, speaking at the meeting, called upon the states to implement the Contract Labour Act, 1970 in right earnest while expressing concern that the performance of some states is poor in this regard.
He informed that the Tripartite Working Group constituted in pursuance of the recommendations made at the previous Indian Labour Conference to examine the provisions in the Contract Labour Act is expected to give its recommendations by the end of this year.
Asked to comment about the lingering labour unrest in Gurgaon and other places in Haryana, he said the state government will look into it. "However, if any issue comes to us, we will try to solve them."