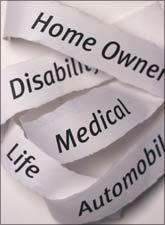 Having obtained a life insurance policy, you are required to pay the premiums on the due dates as mentioned in the policy document. However, insurers do allow for a 'grace period" for the premium payment. Payments within the grace period are considered to be 'on time' payments.
The grace period usually lasts for one month for yearly, half yearly and quarterly premium payment modes and 15 days for the monthly payment mode.
The trouble begins if the premium is not paid even within the grace period or if you decide to discontinue the policy like many ULIP investors have done in the recent past, after realising that the policy doesn't quite fit into their scheme of things.
In such a scenario, the policy is considered to have lapsed and all the premiums paid are forfeited. While it is possible to revive a policy within five years of the last premium being due, the policy lapses for all practical purposes till such a revival.
More importantly, the insurer doesn't entertain any claims once the policy lapses. However, the Insurance Act does not allow for forfeiture of paid-up premiums or the policy as every policy acquires a reserve based on the premiums already paid.
The Insurance Act provides for a return to the policy holder an amount that is representative of the reserve and this is referred to as the 'surrender value' or the 'cash value'.
The Insurance Act stipulates that every insurance policy shall have a guaranteed surrender value, if at least 3 years' premiums have been paid. This reserve arises due to the following:
1.  Premiums in the early years of the policy being more than what is justified.
2.  Savings element in the premium.
Apart from the option of surrendering your policy, insurers like LIC also provide other options like making a policy 'paid-up', whereby the policy remains in force with a reduced sum assured, depending upon the number of premiums paid. A
nother option is to keep the policy in force by deducting future premiums, from the surrender value. A third option is to provide term insurance subject to the condition that the surrender value is more than the sum assured.
Surrendering a ULIP after having paid the premiums for the first three years may be an unwise option. But then, continuing with high ULIP premiums only at the behest of your agent is even more unwise and over the long-term this could hurt your finances a lot more.
The solution lies in exercising due care and making an informed decision at the outset while deciding to take life insurance. However, for individuals who are saddled with the wrong policy it's an unenviable situation.
If you find yourself stuck in such a situation, consult your financial planners or insurance advisors and then decide on continuing the policy based on the merits of the case and your finances, among other factors.