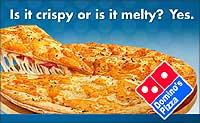 Global quick service restaurant chain Domino's Pizza is planning to hire up to 1,800 new employees during this fiscal to service its expanding chain.
The company is also toying with the idea of introducing its small format store concept for walk-in crowds in the Indian market. "We have a tentative plan to recruit around 1,500-1,800 new employees this fiscal. This is being done to service our new restaurants," Domino's Pizza India senior vice-president (marketing) Dev Amritesh said.
He said the US-headquartered chain had planned to start 70 new restaurants across the country during 2009-10, of which around half have already been opened with the rest scheduled for roll-out by March next year.
"Every outlet would require around 20-25 employees and we have put a tentative figure of 1,500-1,800 for recruitment," Amritesh said.
The chain is also looking at introducing the small-format store concept in India to further tap the over-the-counter market."We are keen to experiment with various global formats of the chain. One option is small-format restaurants for walk-in crowds in high-footfalls zones like malls," Amritesh said, without giving details.
Domino's has currently 275 restaurants across the country with an average size of 1,200 sq ft each. While 70 per cent of the company's sales come from home delivery, the rest 30 per cent is over-the-counter sales.
The company had in August ventured into the ready-to-eat pasta market. It had earlier announced plans to have 500 outlets across the country by 2010-11.
According to industry estimates, Domino's Pizza had around 42 per cent share in the organised pasta market in 2007-08.