Employee benefits, also called fringe benefits, perquisites, perqs or perks are various compensations provided to employees other than their normal salaries.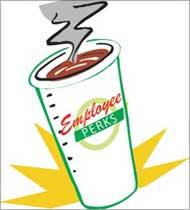 Some of these benefits include housing (employer-provided or employer-paid), group insurance (health, dental, life etc.), disability income protection, retirement benefits, day care for employees' children, tuition reimbursement, sick leave, vacation (paid and non-paid), social security, profit sharing, funding of education, and other specialised benefits.
These perks vary from company to company. Some of these benefits are taxable and as such understanding the tax implications is important.
With the abolition of the fringe benefit tax, it is back to the old perquisite tax. But what are these perquisites? Section 17(2) of the Income-tax Act, 1961 gives an inclusive definition of perquisite. As per this section, perquisite includes:
The value of rent-free accommodation
The value of any concession in the matter of rent respecting any accommodation
The value of any benefit or amenity granted or provided free of cost or at concessional rate in any of the following cases:
By a company to an employee, who is a director thereof
By a company to an employee being a person who has a substantial interest in the company
By any employer to an employee whose income under the head 'Salaries' exceeds Rs.24000 excluding the value of non monetary benefits or amenities.
Any sum paid by the employer in respect of any obligation which, but for such payment, would have been payable by the employee.
Any sum payable by the employer whether directly or through a fund, other than a recognised provident fund or EPF, to affect an assurance on the life of the employee or to affect a contract for an annuity.
The following perquisites that are not taxable:
Medical facility
Medical reimbursement (upto Rs. 15, 000)
Refreshments at work
Subsidised lunch or dinner provided
Recreational facilities
Telephone Bills
Goods sold at a concessional rate: When the employer sells the goods being manufactured by him to his employees at concessional rates, it is not a taxable perquisite. However, if the employer sells other goods to the employees at a value lower than the market value of the goods, the benefit given to the employee is taxable.
Insurance
Loans to employees
Transportation facilities
Perquisites provided outside India
Training of employees
Employers contribution (pension, deferred annuity scheme and staff group insurance scheme of employees)
Financial Bill 2009 removed the fringe benefit tax on the value of certain benefits like employee stock options (Esops), sweat equity and superannuation funds given to employees. Thus, the tax burden on these will have to be borne by the employees themselves.
Other perquisites are also likely to be taxed, though no clear rules have been laid down for the same.