The National Stock Exchange's move to lower trading cost in futures and options and cash segments by 10 per cent may force both the Bombay Stock Exchange and the upcoming MCX Stock Exchange to have a re-look at their business models.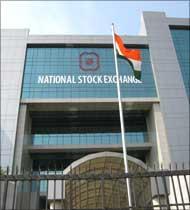 While MCX-SX is still waiting for regulatory approval to host equity trading, BSE has been struggling to maintain its 30 per cent market share in the cash segment.
NSE, on the other hand, is already a market leader in both cash as well as futures segments with nearly 70 per cent and 98 per cent market share, respectively.
"While the NSE move may largely benefit investors and traders, the reaction seems to be a prelude to the likely competition that it may face from MCX-SX in the coming months," said Nikhil Vora, senior stock exchange analyst of IDFC SSKI, a Mumbai-based research house.
Vora is of the view that competition in the stock exchange space will move beyond price attribution as BSE and MCX-SX fight NSE to get more liquidity on their platforms.
However, stock brokers are saying that BSE may be the first casualty if they do not respond to the NSE move as MCX-SX is nowhere in the race since it's yet to get permission from the Securities and Exchange Board of India to launch equity trading.
"It's a good move by NSE to lower its transaction charges as the benefits will be passed on to retail investors. However, for brokers to choose an exchange to trade on will depended more on the liquidity factor, and volumes on NSE has gone up by nearly 70 per cent recently," said a South Mumbai-based broker.
While NSE has reduced transaction charges in the F&O segment for the first time since 2001, the exchange had in September 2005 cut charges in the cash segment from Rs 6 to Rs 3.50 per lakh.
From next month, the cost of transaction in NSE's cash segment will be Rs 3.25 per lakh and F&O segment will be Rs 1.75 to Rs 1.90 per lakh. At present, NSE charges Rs 2 per lakh in the F&O segment.
The transaction fee charged by stock exchanges in India is the lowest among other exchanges around the world. However, the cost of trading in the country is high due to other statutory charges such as securities transaction tax and stamp duty.