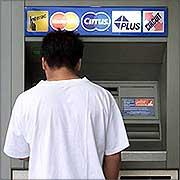 You have opened a new bank account with a new age bank, after receiving a call from one of the bank's telecalling agent. This agent had extolled the benefits of opening a bank account and you were charmed by her claims. So you went ahead and opened the account. But are you aware what are the costs of owning the account?
Have you been made aware of the various costs in owning a bank account? Here are some important aspects you should be aware of:
Non-maintenance of minimum balance: Different banks have different amounts needed to be kept as minimum balance. These amounts range from Rs 1,000 for nationalized banks to over Rs 1 lakh for private banks. If you fail to maintain this minimum balance, then you will end up paying minimum balance charge. This amount can range from Rs. 20 for nationalized banks to Rs 850 for private banks.
Charges for cash withdrawal at 3rd party ATM: Though today, cash withdrawal at 3rd party ATM is free, RBI plans to restrict this free usage to 5 transactions per month, with effect from October 2009. Any transaction over 5 transactions will attract a fine of Rs 20 per transaction.
Account closure charges: Banks also hate to see you go within 6 months. So you will end up paying anywhere from Rs 50 to Rs 200 if you close the account within 6 months.
Certificates: Do you want balance certificates, interest certificates or address confirmation, signature verification or any other document attested by your bank? Then be ready to shell out anywhere from Rs 50 to Rs 250, towards the charges for the same.
Bounced cheque charges: You have issued a cheque or have deposited a cheque. But that cheque bounces. So you end up paying anywhere from Rs 50 to Rs 200 if you bank with nationalized bank or Rs 100 to Rs 500 if your bank is a private bank.
Chequebook charges: Banks offer you a certain number of chequebooks free in a year. If you exceed this limit and you will end up paying for them. The charges range from Rs 50 to Rs 200 per chequebook. So if you use a lot of chequebooks in a year, you will end up making your bank rich.
Duplicate account statement charges: It is mandatory for banks to send you one statement per quarter. Unfortunately, if you end up losing this statement, you will end up having to pay the bank for the duplicate statement. This charge can range between Rs 50 to Rs 500 for each statement.
ATM/Debit card fees: Most private banks charge a fee for issuing ATM/Debit cards. Such fee for the card range from Rs 100 to Rs 500.
Cash transactions at branch: Most banks, particularly private banks encourage you to use the ATM often. To prevent you from performing a lot of  cash transactions at the branch, most banks, especially private banks give you a certain number of transactions at a branch free, beyond which you are charged.
Miscellaneous charges: If you think, these are the only charges you'll have to bear, then you are wrong. You will also have to contend with outstation cheque clearance charges, DD/pay order charges, standing instruction charges, dormant account charges, etc.
If you think opening a bank account is free, then you are wrong. A bank account comes with hosts of charges. Unfortunately most of the marketing executives don't highlight the charges. Hence it becomes your responsibility to find out about these charges. It will prevent you from having to pay any unnecessary charges.