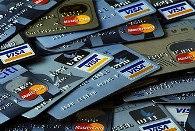 Four indian banks are offering cards with a credit limit of 80-90 per cent of the fixed deposit, writes
Bienu Vaghela.
Nitin Sinha's son is just out of one of the premium business schools of India, with a job through campus selection in an MNC. Now, this young, happening fellow is ready to rock! But before he steps into this life, Mr. Sinha wants to monitor his spending habits.
He doesn't want him to indulge in shopping binges and unknowingly get into the credit trap. And, perhaps, become a defaulter in the early stage of his life. Till now, he was using his add-on credit card and the onus of payment lay on Mr. Sinha. He knew where and how much his son was spending. But now he wants to impart independence to his young son.
So, what is the option? Secured credit card...Yes! Now, your fixed deposit will provide security for your credit card.
In fact, in developed markets such as the US, customers use credit cards with the security of fixed deposits to build a good credit history. Closer home, ICICI Bank, Axis Bank, Kotak Bank and ABN Amro are doing this for customers like Mr. Sinha's son.

Though Mr. Sinha owns the fixed deposit, his son can have the card in his name. This is even a bigger boon for those who have had a bad credit history. It is an opportunity to re-build the credit history and start afresh.

A real lease of life for those who have defaulted in the past. Also, for those who use cards on the internet, where usage of debit cards has certain limitations. And for cities in which a credit card is not available, a secured credit card is a good option.
These banks have started (ICICI, Axis, Kotak and and ABN Amro) the latest format for giving credit cards with a credit limit of around 80-90 per cent of the deposited amount. While one earns interest on the fixed deposit, the charges on these cards are similar to those on regular cards.
According to a well-known personal finance expert, offering a credit card against fixed deposits is a win-win situation for both the bank and the customer. For the former, the loan amount is secured against any default. And, the customer is not only getting a credit card but also a chance to improve his credit rating. Let's see what these banks have to offer in this FD-backed credit card.
ICICI Bank's 'Easy Deposit Card', exclusive to its FD customers, is free of charge as long as the FD account is active. For getting this card, the applicant shall be required to maintain a minimum fixed deposit of Rs. 20,000 with ICICI Bank.

The credit limit on this Fixed Deposit Instant Credit Card is 85 per cent of the fixed deposit amount, subject to a minimum credit limit of Rs 17,000 and a maximum of Rs 3 lakh. The said credit limit is subject to change from time to time, at the sole discretion of the bank.
Axis Bank has slabs of fixed deposits for its various cards, such as Rs. 1,25,000 for a Platinum Card, Rs 40,000 for a Gold Card and Rs. 20,000 for a Silver Card.
If default happens, the bank will have the right to liquidate the entire fixed deposit amount; it would set off from the FD the outstanding amount payable to it, with only the balance amount refunded to the card holder.
So, with this secured credit card, you can build your credit score, which is assigned by  The Credit Information Bureau of India (Cibil), based on the borrower's credit history and repayment behaviours. This score gives an indication of the creditworthiness of an individual.

Banks often check the credit score of a customer before granting any loan. A person with low credit scores often finds it difficult to get a loan or a credit card from a bank, whereas a higher score can entail various benefits. To avoid landing in such a situation, a secured credit card is quite useful. 
The author is Chief Editor, ApnaPaisa.com