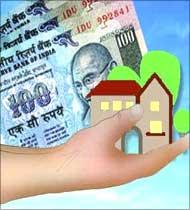 For those planning to take a loan to buy their house, there is good news. Several banks have slashed home loan rates recently. Again.
Bank of India has come up with a festive offer called Star Home Loan, which can be availed till December 31. For a loan of up to Rs 50 lakh, the rate of interest will be 8.50 per cent in the first year and 9.25 per cent in the second.
For loans of Rs 5 lakh-1.5 crore, the interest in the first year will be 9.75 per cent and 10.50 in the second. From the third year, the then floating rate of the bank will be applicable in both the cases.
Union Bank of India has launched a special festive offer on home and auto loans. As per the offer, for home loans up to Rs 50 lakh, the bank will charge a fixed rate of 8.50 per cent for the first three years. From the fourth year, the interest will be a floating rate linked to the benchmark prime lending rate of the bank for all tenures. The bank has also reduced rates for car loans by 75-100 bps, depending on the tenure.
Says R.K. Nikra, chief manager, "The offer will be effective from September 1 September till October 31."
A few days before the UBI offer, ICICI Bank launched a special offer for all new home loans. As per the new offer, the bank will charge an interest rate of 8.75 per cent for loans up to Rs 20 lakh. For loans of Rs 20 lakh-50 lakh, the new interest rate is 9.25 per cent.
Borrowing above Rs 50 lakh will attract 9.75 per cent interest rate. Effective from August 20, the scheme is available only for a limited period of time, said an ICICI spokesperson. Apart from the special offer, ICICI Bank's home loan interest rates are in the range of 9.25-11 per cent.
Both theses offers came within weeks of the State Bank of India (SBI) cutting rates by 50-75 bps on high-value home loans. Earlier, SBI had launched a new home loan scheme offering 8 per cent for 1-5 years, depending on the amount, with zero processing fees, as against an average of about 10 per cent charged by others.
Among other players who have cut home loan rates are Punjab National Bank, housing finance majors LIC Housing Finance and HDFC.