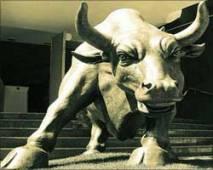 The Sensex exhibited firm movement today following the rise in advance tax collection in the second quarter of the financial year, indicating a surge in profit expectations by the companies.
The BSE-30 share benchmark index opened 41 points higher, which is also its intra-day low, after taking a breather on Monday following a seven-day rally.
As the day progressed, the Sensex continued to gain on the back of sustained buying and touched a high of 16,477, up 263 points. The index closed near day's high at 16,454, up 1.48%, or 240 points.
The NSE Nifty ended at 4,892, up 84 points.
All the sectoral indices ended in the green. Among them, BSE realty led the rally with a surge of 4.14%. The metal and auto indices also posted smart gains of 3.75% and 2.45% each. Bankex gained 2.4%, Power index rose 1.5% and FMCG was up 1.2%.
The market breadth was fairly positive - out of 2,873 stocks, 1,791 advanced, while 997 declined.
INDEX MOVERS...
DLF surged 5.5% to Rs 414. Hero Honda rallied 3.5% to Rs 1,615.
Reliance Infrastructure, Sterlite and Hindalco advanced over 3% each to Rs 1,210, Rs 742 and Rs 125, respectively.
Jaiprakash Associates, Reliance Communications and SBI have added over 2.5% each to Rs 237, Rs 300 and Rs 2,010, respectively.
Tata Steel also gained 2.5% at Rs 491. HDFC added over 2% to Rs 2,557.
ICICI Bank, NTPC and TCS were up up nearly 2% to Rs 842, RS 209 and Rs 570, respectively.
Reliance, Mahindra & Mahindra and Tata Motors advanced 1.5% each to Rs 2,181, Rs 844 and Rs 570, respectively.
Among the Nifty gainers, Jindal Steel jumped nearly 7% to Rs 614. Reliance Capital and Siemens gained 4.5% and 3.5%, respectively.
...AND THE SHAKERS
ONGC, Bharti Airtel and Hindustan Unilever were marginally down.
VALUE & VOLUME TOPPERS...
Jindal Steel topped the combined value chart on both the BSE and the NSE with a turnover of over Rs 874.04 crore. It was followed by Bank of India (Rs 764.04 crore), Unitech (693.36 crore), DLF (617.3 crore) and Reliance (583.58 crore).
Unitech led the combined volume chart with trades of over 63.12 million shares, followed by IFCI (45.93 million), Suzlon (43.22 million), Ispat Industries (31.22 million) and IDBI Bank (25.91 million).