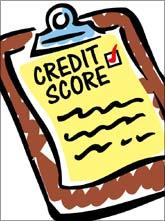 Has a bank turned down your loan application citing poor credit history? Now you can check why your credit record worked against you and seek recourse by obtaining a copy of your credit report.
All you need to do is fill up an application form available at Credit Information Bureau (India) or Cibil's website, attach a draft for Rs 142 and an identity proof and mail it to Cibil. The company's Managing Director Arun Thukral said that the report would reach you within a week.
Credit scores, which are used by banks to assess an applicant's creditworthiness is new to India, with Cibil, which started operations around five years ago, being the sole service provider at present, though it could soon have competition from three other players.
While only banking records were available at present, the information provider has started pilot projects with Bharti Airtel and Vodafone to include data related to telephone bill payments as well, Thukral said. Going forward, information from general insurance companies would also be included, he said.
From the database covering over 140 million accounts, the agency provides a credit score between 300 and 900 for banks to enable the lenders to decide on whether a loan could be sanctioned or not.
In the past, several individuals have complained that their credit records were not updated affecting their overall score. On its part, Cibil blamed banks for not updating the records, but customers could do little to find out how the problem arose.
But the Cibil Credit Report, launched a month ago, would help individuals find out the exact causes. The report provides details such as identification (Permanent Account Number, passport number, voter identity card number), address and contact details, along with the date when you moved in.
It also provides the list of all your bank accounts, the zero balance accounts, the approved credit limit on your cards and the outstanding and overdue balance. Further, there are details of all loans that you have availed, including those already repaid.
Besides, details for the last three years for each loan is given, which provides a month-wise status - ranging from standard, overdue, special mention account, sub-standard or doubtful.
In addition, the report provides the list of enquiries made in recent months along with the purpose for which an enquiry was made. While the name of the bank is not given, the date of enquiry, the purpose (whether it is for a credit card or a home loan) and the amount is provided.
While the process was manual at present, Thukral said that Cibil has tied up with a business process outsourcing outfit, and by the end of the current financial year, would put in place payment gateways to enable online payments.
Meanwhile, the agency today announced the launch of Cibil Locate Plus, which will help lenders update their customer contact information. The new product will provide information such as customer identification details, customer contact addresses along with the reported dates and all the customer contact numbers available in the database.