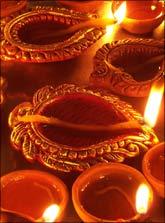 Dussehra and Diwali aren't just the season for Durga puja, laddoos, and Ram Lila. It's also the time when most new real estate projects are launched.
Developers use this season to their advantage because they know that you will be most keen to make a real estate investment during these auspicious days. However, don't rush in blindly just because you want to buy something before this 'holy' period ends.
Many developers are still in a financially weak condition. The situation in the market is still a little fragile. Just because the stock market is going up does not mean that normal conditions have returned to the real estate sector as well. Please keep this in mind before you take the plunge.
Here are 5 tips that you must remember before you buy property this festive season.
1. Choose your builder wisely
The real estate sector, globally and in India, is notorious for developers who take investors' money and then run away. Make sure that you go with a reputed builder who has been developing properties for a while and has had an operating history. Don't just go with any builder.
It might be worth paying a premium to go with someone who has built their reputation over a few decades. If you have not heard of your developer, always ask your developer what properties they have developed, and if possible speak to customers who bought properties at these developments to learn from their experience.
2. Ask for a construction-linked payment plan
The financial condition of various developers is still not totally safe. So, rather than give them money at their will, ask for a construction-linked payment plan. This way you know that your installments are actually going towards financing the development, rather than being used for other unknown purposes.
Beware of time-linked payment plans. If you have the option, stay away from such plans.
3. Penalties for delays
As it happens, many -- if not most -- projects launched last Diwali have still not seen construction begin. Yet, many customers have paid their installments on time with nothing to show for.
Understand what rights you have in case of delays. Ask for a definitive date for when construction should begin. If you are dealing with a small builder who does not have a long operating history, make sure that the contract gives you adequate protection against the builder just sitting on your money and delaying the project's completion.
4. Location
Don't be in a rush to buy property just because the price looks tempting, and it is an auspicious time to buy property during the festive season.
Recognize that the single most important factor in buying real estate is usually the location of the property. Can you see yourself living there, or someone renting this property? Is it close to civic amenities and is the planned connectivity convenient?
5. Don't buy to flip
Don't assume that you will easily be able to flip your property to another buyer for a premium just on the back of paying your booking amount and some installments.
In the near-term, there could be an over supply of apartments. Also, keep in mind that there are thousands of people who are already sitting on apartments which they want to sell.
Buy a property if it makes economic sense for you as an investment, or as a residential home. Don't gamble.