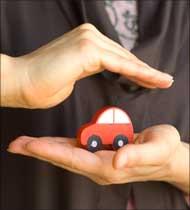 All of us having motor vehicles have to go through the yearly ritual of buying insurance on our car. This article attempts to demystify the jargons of motor insurance and processes involved.
The basic jargon:
Insured: Owner of the private car
Insurer: The insurance company
Under the provision of the Motor Vehicles Act all vehicles -- owned by individuals -- should be covered by an insurance policy. The car insurance policy can be either
Third party or
Comprehensive insurance policy.
Third party car insurance policy covers only the inter-alia accountability of the vehicle owner for loss or damage to life or property of the third parties.
Whereas comprehensive car insurance policy covers in addition to third party accountability, loss or damage to the vehicle itself by way of accident, theft, etc. and other specified dangers.
Motor insurance policy covers
Section 1 - Loss of or damage to the vehicle insured
The company will reimburse the insured against the loss or damage to the vehicle insured for the following:
by fire, explosion, self ignition or lightning
by burglary, housebreaking or theft
by riot & strike
by earthquake
by flood, typhoon, hurricane, storm, tempest, inundation, cyclone
by accidental external means
by malicious act
by terrorist activity
whilst in transit by road, rail, inland-waterway, lift, elevator or air
by land slide, rockslide
Cost of protection to the nearest car repair service - Rs 1500.
Vehicle valuation
The car is neither to be insured for reinstatement value nor for depreciated value. It is to be insured for second-hand value in the local market for a similar type of car for a similar model. In the event of loss, the liability of insurance company is the maximum compared to the market value or the amount of insurance whichever is less.
Factors determining premium of a car
Cubic capacity
Year of car
Geographical location
Value of car proposed
Various extensions opted for
What does company pay in case of claim for comprehensive cover?
In case of an accident, the insurance company pays for cost of damaged parts which are to be replaced and the labour cost to repair the vehicle.
Will I be eligible for complete reimbursement?
No, it is all subject to a deduction or depreciation at the rates mentioned below in respect of parts replaced
| | | |
| --- | --- | --- |
| 1 | For all rubber/nylon/plastic parts | 50% |
| 2 | For fiber glass components | 30% |
| 3 | For all parts made of glass | Nil |
For all other parts depreciation will be as below
| | |
| --- | --- |
| Age of the vehicle | % of Depreciation |
| Below 6 months | Nil |
| 6-12 months | 5% |
| 1-2 Years | 10% |
| 2-3 Years | 15% |
| 3-4 Years | 25% |
| 4-5 Years | 35% |
| 5-10 Years | 40% |
| Exceeding 10 Years | 50% |
The insurance company will not be liable to make any payment in respect of:
Consequential loss, depreciation, wear and tear, mechanical or electrical breakdown, failures or breakages
Damage to tyre and tubes unless the vehicle is damaged at the same time, in which case the liability of the company shall be limited to 50 per cent of the cost of replacement
Any accidental loss or damage suffered whist the insured or any person  driving the vehicle under the influence of intoxicating liquor or drugs
Section II - Liability to third parties
Death of or bodily injury to any person including occupants carried in the vehicle (provided the occupants are not carried for hire or reward)
Damage to the property other than property belonging to the insured
Section III - Personal accident cover for owner diver
Due to bodily injury/death sustained by the owner-driver of the vehicle by violent accidental external and visible means which independent of any other cause shall within six calendar months of such injury results in
| | | |
| --- | --- | --- |
| Sl. No | Nature of injury | Scale of Compensation |
| 1 | Death | 100% |
| 2 | Loss of two limbs or sight of two eyes or one limb & sight of one eye | 100% |
| 3 | Loss of one limb or sight of one eye | 50% |
| 4 | Permanent total disablement from injuries other than named above | 100% |
Apart from the above covers the private car insurance policy can include the following endorsements at discounts and payment of additional premium:
Discount for membership of recognised automobile associations
Installation of anti-theft device
Personal accident cover to the insured or any named person other than paid driver or cleaner
Personal accident to unnamed passenger other than insured and the paid driver and cleaner
Personal accident cover to paid drivers
Deductibles
It means the minimum amount which cannot be claimed:
Compulsory deductible - Rs 500 for each and every claim
Voluntary deductible - The client whilst taking a policy can decide on voluntary deductibles through which the insured may avail a discount on the premium
Legal liability to employees of the insured other than paid driver who may be traveling or driving in the employers car
---
The sample insurance policy detailed above is the traditional insurance policy still operated in India. Few insurance companies like Cholamandalam, TATA AIG have launched new motor insurance policies which cover even depreciation, loss of driving license, daily allowance whilst at the garage.