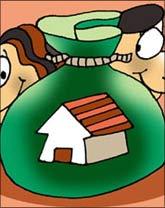 Global property consultancy firm, Knight Frank India, has said that prices in the residential property segment are likely to decline in a short time.
"We feel prices of residential segment may go down over a period of time," Knight Frank India's chairman, Pranay Vakil, said.
The residential segment may see a robust demand in certain markets, he said, adding that it was also a good time for property developers to invest in land.
Demand for real estate at this stage is a combination of investor-led demand and end-user demand. While investor demand is due to shift in money from equity markets, end-user demand is due to increased consumer confidence and pent-up unmet demand from the recession period. This leads to a rapid increase in demand for real estate and a corresponding increase in property prices, he said.
Today, property buyers are worried that prices may go down further after they purchase the property and projects may not be completed on time, Vakil said.
Knight Frank launched a book titled Real Investment -- a real estate investment guide for India. The book seeks to lend a helping hand by covering all the information that one may require while investing in real estate.
The book compiles the perspectives of real estate industry experts to help deepen knowledge about real estate and consider it as an asset class.
Commenting on the book launch, Vakil said, as property advisors, we continuously work with some of the best minds in the sector. We felt the need for a single credible source of information for which we brought together the best minds in the business.
This book makes the seemingly daunting task of delving into the real estate market simpler by offering tips on how to make real estate a lucrative investment option."