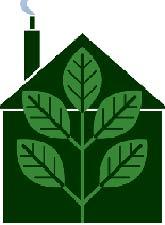 This is one good campaign that will secure our future! I am talking about the 'go green' campaign that has caught the attention of almost everyone, from politicians, media to the common people. What are green homes? What makes a home green? Why do you need green homes?
Apart from this obvious set of questions, there are a lot more things that you will need to know about green homes both at the micro and macro levels. These are: the affordability factor, whether making the home green will affect the comfort levels and whether these green homes will revolutionise the realty market or not.
What is a green home?
A green home, when compared to a non-green home is more energy efficient, utilises less or optimum level of water and other natural resources, has green areas intended for plenty of sunlight and cross ventilation, all of which could save money and ensure better health. Further, a green home is eco-friendly in the sense it adds less waste to the environment.
We are living at times when there is an immense pressure on the world's natural resources, including water, and air. There is also an urgent need to cut down on pollutants that continue to play havoc on the environment.
The only viable solution to this environmental hazards is to go green. And the onus is not only on the policymakers and green home builders but also on individuals.
Initial costs are high but you can easily recover
You can either build a green home or make it green later. Many people hesitate to buy a green home because the initial costs of purchase is high.
Typically, the cost of construction of green houses is at least 15-20 per cent higher than that of ordinary houses. According to rough estimates, the selling price is 15 per cent higher than ordinary houses.
But this initial high cost should not be a deterrent. Today, some green home developers share the extra costs with the buyers.
Even if you are not lucky enough to find such developer, you could easily recover this high initial cost within two or three years.
Green home is good to wallet and health
When you buy a green home, you can save almost 40 to 50 per cent of the operating costs and thus recover the higher initial costs in two or three years.
A green home, equipped with water recycling and water harvesting, can save one a lot of maintenance cost, power and water.
Consider this: The heating, lighting, and cooling appliances used in green homes use the best of natural resources.
A green home utilises alternative energy sources like sun, wind, geothermal and biomass energy. Some green apartments have insulated roofs and walls that considerably lessen the heat ingress in some cases up to 60 per cent, thereby resulting in a significant lower air-conditioning loads.
Major energy saving techniques is installed in green homes. For instance, the Vatika Group, in one of its green homes projects, has installed a variable frequency drive which automatically adjusts motor speed of the cooling systems according to the ambient temperature.
Another important feature of green homes is that their construction excellence ensures a longer lifespan of the building, reduces repair and maintenance costs and subsequently increases the investment value.
If you want to resell your green apartment, you could get a higher resale value. For, most people are aware that a green home is synonymous with international standards in residential spaces.
More awareness and favourable policy decisions hold the key!
Green campaigns are here to stay but there is a desperate need to shift focus to create more awareness on popularising green homes, particularly in India, where the green homes' market is yet to take off.
Incentives like favourable policy decisions, fewer formalities and approval methods, discounts for costs involved, popularising the grading system, doling out tax rebates for developers of green homes can go a long way in encouraging the builders to take up green homes projects.
Individual owners of green homes should be fully aware of the actual costs involved in building green homes and altering existing standard homes into green, and also of how energy saving techniques could actually help recover the initial costs.
There could also be government-backed initiatives like linking energy saved through green homes to bank loans. For instance, a recent report in The Wall Street Journal said that there are programmes in the US that see potential energy-bill savings into qualifying income which enable people get bigger loans.
Overall, owning a green home can be good for your health, your wallet and our environment. Think green today and the world will be greener tomorrow. Do your bit for this highly valid cause and your children will thank you in the years to come.
Image: A green house