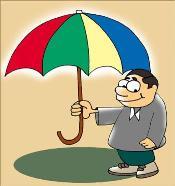 Starting with property insurance, the deductibles will rise, as insurance companies try to lower their underwriting losses. Under fire and engineering covers also, deductibles have been increased across segments.
For instance, in case of large risks, where the sum insured is over Rs 250 crore (Rs 2.5 billion), a policyholder will have to pay between Rs 50,000 and Rs 1.5 lakh while making a claim, instead of Rs 10,000-Rs 25,000 at present.
Similarly, in case of advance loss of profit for companies that are engaged in managing or developing hydel projects, canals or dams, claims will be paid from the 46th day, instead of the sixth day at present.
For a standard fire and special perils policy, in case the sum assured is over Rs 10 crore, a policyholder will have to pay up to Rs 25,000 or 5 per cent of the claim value (whichever is higher), as against Rs 10,000 or 5 per cent of the claim size at present.
In case of natural calamities-related claims from public sector insurers, a policyholder will have to pay Rs 25,000 while making a claim, instead of Rs 10,000 at present.
Insurance company executives said deductibles were expected to increase for other segments also in the new financial year.
General insurance companies had earlier increased deductibles on account of large losses from the risks underwritten by them. Since 2007, after deregulation of prices on fire and engineering policies, premium rates had dropped 80-85 per cent, as companies offered steep discounts to expand their portfolio.
As a result, the non-life insurance industry reported an underwriting loss of around Rs 4,000 crore. During the first half of the current financial year, the industry made underwriting losses of around Rs 2,500 crore.
"The industry has been facing huge losses after heavy discounts. We, at the industry level, have decided to increase the deductibles," said a senior executive of Oriental Insurance.
"There has been some prodding from General Insurance Corporation to improve underwriting profits. The rates have not yet stabilised. Since prices are competitive, insurers cannot increase premium rates. The only option is to increase deductibles. Almost all insurance companies are opting for the latter to improve productivity," said a senior executive at another public sector company.
Insurers have raised premium in some segments like group health insurance, which was earlier doled out as a freebie with property policies.

 
* Earlier: In case of large risks, where the sum insured is over Rs 250 crore, a policyholder used to pay Rs 10,000-Rs 25,000 
From April 1, 2010: Policyholder will have to pay between Rs 50,000 and Rs 1.5 lakh
* Earlier: In case of advance loss of profit of companies engaged in managing or developing hydel projects, canals or dams, claims were paid from the the sixth day
From April 1, 2010: Claims will be paid from the 46th day
* Earlier: In case of natural calamity-related claims from public sector insurers, a policyholder paid Rs 10,000
From April 1, 2010: Policyholder will have to pay Rs 25,000