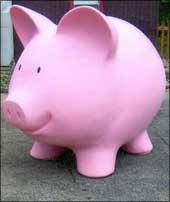 Getting married? Starting a job? Getting further education? Starting your own family? Have you planned for these important phases in your life?
Good control over your personal finances will help you achieve the goals you have set for yourself and cope with changes in your life. How can you achieve that? The answer is having your own personalised budget.
How do you draw a budget that suits your need? Say, you are interested in taking an educational course and are thinking of taking a student loan. How will you accommodate this additional expense? To begin with, you need to draw your personal budget.
The first step is to calculate your monthly income. Consider income from all sources including income from your investments -- A.
Next, make a list of your monthly expenses. For example, if you are a salaried employee, list your routine expenses like expenses on commute, food expenses, utilities, clothes, charities etc. Then think of any extraordinary expenses that you may have to incur during the budgeted period, such as home improvement projects or purchasing a car -- B.
It is a good idea to categorize your payments under different headings like daily living expenses, entertainment and vacation, health etc. This will give you a fair idea of how much you spend on different categories. It is easier to keep track and also control your expenses once you know how much portion of your earnings goes into each expense. 
Calculate the difference (A - B = C).
The next step is to redraft your personal budget to include expenses related to the educational course like interest and principal payment, course fees, expenses on tuitions and books, loss of wages etc. If you still have a comfortable surplus of cash (C), you can finalize this budget. If not, consider the expenses that you can avoid and reconsider the amount of loan. Once you reach a bottom line that you are comfortable with, finalise your budget.
When you decide the cash surplus / short you will be comfortable with, you should also think of the percentage of income you would ideally like to save for your future. Think of short-term as well as long-term or retirement savings. 
You may compile your budget into an excel sheet or use a physical book or diary. Alternatively, there are several free softwares available online for the taking.
Here are a few tips of a working budget:
Keep your working sheet as simple as possible and keep it clean. Each item and category should be clearly defined.
It is a good idea to create a flexible spreadsheet or if you have a hand written budget in mind, leave - enough space to add items of income or expenses in the existing budget.
Maintain budgets on a continuous basis. Ideally, one should have a monthly budget rolling into an annual budget. The annual budget should also be in line with the long-term budget.
An important part of budgeting is keeping track of actual income and expenses and calculating variances. If variances are beyond acceptable limits, then it is time to revisit your budget and make necessary changes.
If you have a long list of income or expenses, it is advantageous to use excel or other computer software. For example, by using excel you can add comments, format your sheet, create reports using certain information from the excel sheet.