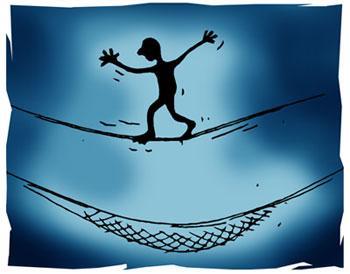 The tiff between IRDA and Sebi on the regulation of ULIPs turned ugly when the Sebi issued a directive stating that 14 life insurance companies should stop selling ULIPs with immediate effect, till they obtain the requisite certificate of registration from Sebi.
Meanwhile, on Monday, the government said that Sebi and IRDA have agreed to maintain the status quo that existed before market regulator's ban on 14 life insurers from raising funds for unit-linked schemes.
The status quo will be maintained till a court decides who can regulate ULIP schemes, Finance Minister Pranab Mukherjee said.
The fourteen insurance companies that were included in the Sebi order were Aegon Religare, Aviva, Bajaj Allianz Life Insurance, Bharti AXA, Birla Sun Life, HDFC Standard Life, ICICI Prudential, ING Vyasa Life, Kotak Mahindra Old Mutual Life, Max New York Life, Metlife India, Reliance Life, SBI Life and TATA AIG Life.
ULIP, a product sold by life insurance companies, is a hybrid product serving dual need of insurance and investment.
Sebi is of the opinion that because it has an investment component, it is akin to a mutual fund investment and hence needs to be regulated and registered with the market regulator.
The Sebi Act clearly states that any product with exposure to the securities market comes under its purview and ULIP has exposure to the securities market.
However, IRDA, the insurance regulator, has not taken this lying down. Barely 24 hours after the announcement by Sebi, IRDA came out with its own order stating that insurance companies shall continue to carry out insurance business as usual, including offering, marketing and servicing ULIPs in accordance with the Insurance Act.
IRDA believes that directive by Sebi will harm the insurance industry, since a significant portion of life insurance business comes from this product.
Investor interest will also get affected as drying of revenues could disrupt payment of benefits on maturity, death, etc.
Besides, insurance laws permit companies to sell an investment component along with insurance. After all, LIC has been doing so for years only difference being ULIPs have stock market risk which is borne by the buyer and not the insurance company.
Market information suggests that insurance companies are of the opinion that since IRDA is their regulator, they have to abide by what it says and in this case it means continue to sell ULIPs as before.
ULIPs have been in news for all the wrong reasons for a very long time because of mis-selling (promising of returns, selling it as a short term investment) by agents especially because of the fact that agents are not receiving commission on the sale of mutual fund products.
Also there is very little transparency on the cost-allocation affecting returns for the investors. IRDA has been working towards making this product more transparent but not to the satisfaction of the investor community.
On the other hand, Sebi has done a good job on regulating mutual funds so Sebi's move to regulate ULIPs may be a blessing in disguise for ULIP investors.
Existing investors of ULIP products need not worry about the war that is going on between the two regulators. Whatever the outcome, it is a step in the direction of protecting your interest.
For new investors, it is best to go for a traditional insurance product to cover your insurance needs and a mutual fund to satisfy your investment needs. Why buy a product which you don't understand fully?