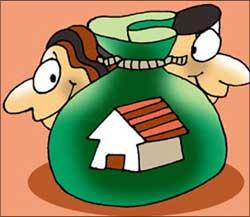 Housing finance major HDFC on Thursday lowered its home loan rate to 8.25 per cent for the first year in its new dual rate scheme, commonly known as teaser loans, applicable on fresh loans.
Under the scheme, the country's biggest mortgage provider would offer a fixed rate of 8.25 per cent up to March 2011, then 9 per cent for the next one year and the prevailing floating rate for the remainder of the loan tenure.
"This is a flexible product with dual rates. The fixed rates are applicable for all new loans irrespective of the loan amount," HDFC said in a statement.
The teaser rates have been a major issue in the home loan market in the recent past, with public sector lender SBI walking away with a big pie of the market through its own teaser rates. A number of lenders, including HDFC, had followed SBI last year in offering teaser rates, but most of these offers were discontinued earlier this year in a rising interest rate scenario.
Although SBI has continued with its teaser rates, it has raised the effective interest rate on the scheme at the beginning of this month.
SBI has extended its 8 per cent special home loan scheme till April 30, but revised the rate for second and third years to 9 per cent from 8.5 per cent earlier.
HDFC today said that besides the new dual rate scheme, its existing floating rate product would continue without any change where rates are 8.75 per cent for loans up to Rs 30 lakh (Rs 3 million), 9 per cent for loans  between Rs 30 lakh and Rs 50 lakh (Rs 5 million) and 9.25 per cent for loans of Rs 50 lakh and above.
Announcing the new scheme, HDFC managing director Renu Sud Karnad said that the company received 'overwhelming' response to its earlier dual rate offer and its cost of funds has now allowed launching a 'lower initial fixed rate'.
"This special offer is applicable to all new home loan customers who apply before April 30, 2010, and take at least part disbursement before June 30, 2010."
Without naming SBI, HDFC said that the effective rate on its new scheme was 'very attractive' and "much better than other large players in the market offering similar products" for a loan tenure of 15 or 20 years.
SBI is the only other major player currently offering teaser rate home loans.
"We would also allow the option to all customers whose loans are fully undisbursed as of April 14 to convert to this product without any conversion fees," Karnad said, adding that the special rates would also be available to NRIs, persons of Indian origin and self-employed customers.
HDFC recorded a growth of 22 per cent in loan approvals during the nine-month period ending December 31, 2009, to Rs 44,110 crore (Rs 441.10 billion), from Rs 33,820 crore (Rs 338.20 billion) in the corresponding period last year.
Loan disbursements during the nine-month period ending December 31, 2009, amounted to Rs 33,527 crore (Rs 335.27 billion) compared to
Rs 27,211 crore (Rs 272.11 billion) in the corresponding period last year, representing a similar growth of 23 per cent.
The company said that its non-performing loans have also been declining on year-on-year basis for 20 straight quarters.