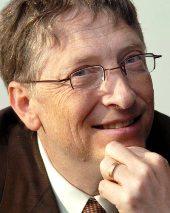 A new variety of rice that can withstand flood and developed by India has received praise from Microsoft founder Bill Gates, who said it is helping farmers to have higher productivity.
Gates, a frequent visitor to India, had a firsthand experience of this variety of rice when he visited the country last year.
"Last year, I got a chance to visit a site in India where they are using new varieties of rice that withstand flooding," he said during the launch of a $800-million international fund to fight global hunger and poverty.
"Already, it is allowing those farmers to have much higher productivity.
"This project has exceeded production targets by five-fold due to the farmer demand and the strong government support," Gates said, while giving example as to how countries were using innovative tools and research to over come poverty.
"We have already seen improvements in many regions, smart investments in cassava, sweet potatoes, legumes, rice and maize were helping farmers grow more in harsh conditions.
"Training and market access are also ensuring that farmers earn more for their hard work," Gates said.
He said that his foundation's approach to agricultural development puts small holder farmers, most of whom were women.
"That's the approach of countries like Rwanda and Ghana, their priorities in agriculture and seeing the impact and that's the approach of this fund and that's why we're so excited about that," he said.
The fund was created in response to a call by G-20 leaders in Pittsburgh last year for the World Bank Group to work with interested donors to set up a multi-donor trust fund to help implement some of the $22-billion in pledges made by G-8 leaders at their meeting in L'Aquila.
"A global economy where more than one billion people suffer from hunger is not a sustainable one.
"At a time of limited resources and large global challenges, this fund will leverage support from around the world to achieve lasting progress against hunger and bolster agricultural productivity and growth," said US treasury secretary Timothy Geithner.
While the US has committed $475 million, Canada pledged $230 million, Spain $95 million, South Korea $50 million and the Bill and Melinda Gates Foundation $30 million.
Image: Bill Gates