Teena Jain Kaushal examines why you need to get personal accident policy, now.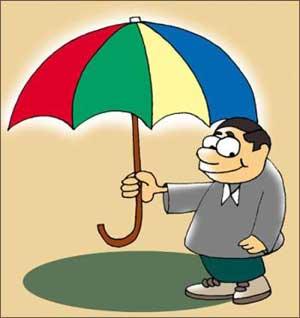 Chances are high that you already have some insurance policies -- life, health and motor -- and feel absolutely protected. You may have hardly felt the need for a personal accident policy as you were told that existing plans already cover all your risks.
But, perhaps, you are making a hurried decision. Is your life cover (with a rider) as comprehensive as a standalone personal accident policy?
A standalone personal accident policy covers you at nominal premium rates compared to a life insurance policy. Also, the former scores in terms of coverage, including loss of income and minor injuries.
A personal accident policy is recommended to individuals not only to protect their families in the event of accidental death (which life insurance already does), but also to cover disablement, leading to loss of earning capacity, at competitive premium rates.
"It is all the more important for those who have taken loans (mortgage loan, vehicle loan, personal loan, etc.) to take the personal accident cover because this would offer protection towards repayment of outstanding balances at the time of any accident affecting the repayment capabilities," says Ajay Bimbhet, managing director, Royal Sundaram Alliance Insurance.
You can also look at a combination of term and personal accident policies to average out the cost. Apart from being cost-efficient, it gives you a wider coverage, too. For instance, on an average, the term insurance cost is around Rs 300 per lakh (lakh = 100,000) of the sum assured, while for personal accident, it is around Rs 100-Rs 200 per lakh of the sum assured. The combination can certainly save you some money.
Also, different types of cover options are available. These range from permanent and temporary total disablements to minor injuries, such as fractures and burns, which do not need any hospitalisation.
For instance, Tata AIG's Maharaksha policy offers covers against everyday injuries and not only does it provide the hospitalisation benefit, it also offers compensation up to Rs 1 lakh for inability to perform any of the three activities-eating, mobility, dressing.
Sanjay Datta, head health and accident, ICICI Lombard General Insurance, says: "One should buy a personal accident cover, as in case of any unfortunate event, the family has to bear the income loss. A personal accident policy helps the dependant of the insured to continue with normal life without much of financial burden."
When and how much to buy?
PA cover is recommended for all adults, including housewives. Children between five and 18 are also eligible for this cover. It's advisable for young drivers to go for this cover.
"You should buy a personal accident policy as soon as you start earning," says, Rahul Aggarwal, chief executive of Optima Insurance Brokers, a New-Delhi based insurance broking company. The rule book says that the cover should be 100 times your monthly salary.
For instance, if your monthly salary is Rs 10,000 per month, the cover should be Rs 10 lakh. In your absence, the family can invest Rs 10 lakh (sum assured) in a fixed deposit to earn an interest of around Rs 7,000-Rs 8,000 a month-to manage the loss of income. Companies may have restrictions on the sum insured.
In the case of New India Assurance: "The capital sum insured is restricted to 72 months income from gainful employment. This means that income from property, shares, etc., won't be taken into account. For non-working spouse, the sum insured is restricted to 50 per cent of the sum insured of earning spouse, subject to a maximum of Rs 1 lakh."
Payout
This depends on the type of injury and whether that particular injury is covered. In case of death or loss of two limbs or both eyes or one limb and one eye, 100 per cent of the sum assured is paid. In case of loss of one limb or one eye, half of the sum assured is paid.
Likewise, for permanent partial disablement, such as loss of a finger or temporary total disablement or loss of income, the payment is made according to the terms of the company.
Standalone or as a rider?
As opposed to a life cover with a rider, a personal accident cover would definitely be a better option due to lower premium rates. Also, it is advisable to buy a standalone personal accident policy because the rider generally does not have loss of income and other options attached to it.
How to buy?
Since personal accident policies offer cover against any accidental death or disablement, they are on an individual basis only.
However, some companies offer discount where family members exceeding a threshold of number are proposed to be covered.
For example, Royal Sundaram offers a discount of 10 per cent if a person proposes to cover his spouse, on premium rates. Different policies catering to different needs are available.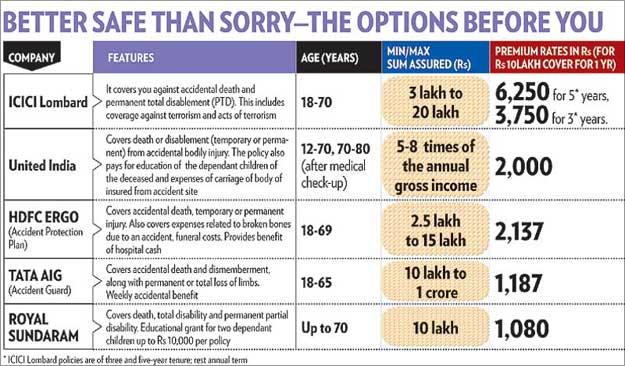 For instance, Secured Future Plan of Tata AIG offers guaranteed monthly income ranging from Rs 10,000 to Rs 35,000 for a period of five to 20 years. To get a monthly benefit of Rs 20,000 for 20 years, the annual premium is Rs 6,464. Some companies also offer these polices online, which can earn you some discount.
Moreover, in these policies, a cumulative bonus is given, whereby the capital sum insured is increased by 5 per cent every year on claim-free renewals subject to a maximum of 50 per cent.
Read the policy document carefully to understand what all your policy covers, as for every add-on, premium rates would be different. Also, similar to health policies, there are exclusions in personal accident policies, too.
For instance, accidents under the influence of alcohol or from dangerous sports are not covered.