Gold is a 'must have' in your investment portfolio.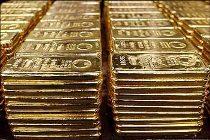 Frankly, there is no need to advocate investment in gold amongst Indian audiences. Traditionally it is a popular avenue of investment for Indians.
However buying jewellery is not as good an investment as buying pure 24 karat gold.  Hence, when we talk of gold as an investment, we mean gold coins, gold biscuits or gold bars – any piece of 24 karat gold.
Since gold is a popular investment, there are several avenues of buying it. Even banks and post offices sell gold. So, from where should you get your gold? Here are your choices:
Jewellers
All jewellers sell gold coins, gold biscuits and 24 karat gold rings. 24 karat gold rings are the most popular sellers. You can visit your trusted jeweller to purchase gold.
You can resell a piece of 24 karat gold without any loss in value.
It is important that you check that the gold coin/bar/ring etc has a 24 karat seal on it.
The cases of fraud amongst jewellers are common; hence it is best to buy gold only from jewellers that you trust and that have a good reputation.
It is a good idea to verify the purity of gold from another jeweller.
The advantage of buying gold from jewellers is that it is one of the cheapest sources plus it blends with consumer mindsets of buying gold from jewellery shops.
Also, you can take it back to the same or any other jeweller and cash it at the current selling rate.
Banks
Banks too sell gold. State Bank of India, Axis Bank, Bank of India, ICICI Bank and HDFC Bank are amongst banking institutions selling gold coins.
A bank is probably the most trusted source to buy gold. Since people trust their money to banks, buying gold from a bank is a viable idea. One can be sure of the purity of gold. Banks give certificates of purity for the gold coins they sell.
However, getting your gold from banks will be costlier as they charge a premium of 10 per cent to 15 per cent over the market rate. So, if your jeweller sells 1 gram of gold for Rs 1853 (as of June 06, 2010), you can get the same from a bank for an additional amount of Rs. 278. So, for 10 grams of gold, you will pay Rs 2, 780 more at the current rates.
This is a direct hit in your profits when you sell the gold. Also note that banks are not permitted to buy back the gold they sell. So, you will have to find another buyer for it.
Gold Exchange Traded Funds
If you are purchasing gold solely for investment purposes, you don't really need to buy gold in its physical form.
You can buy gold in demat form - gold exchange traded funds. A unit of an ETF fund approximates the value of 1 gram of gold.
So, modest purchasers can also get into the gold market. ETFs can save you the cost of storage of gold coins and the time and effort to secure your purchase (such as bank locker charges). Further, you need not worry about the accuracy of weight or purity of the gold – Gold ETFs counter all the demerits involved in purchasing gold.
Just one hitch – if you are buying gold coins for investment such that they can be converted to jewellery later on for any occasion like your child's wedding – then this option does not work for you. The performance of Gold ETFs has been impressive.
Here is table of changes in prices of Gold ETFs over a period of 2 years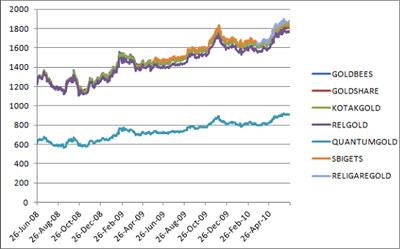 Online over the internet
As most of your other investments, gold can be purchased online too. Some jewellers also have started selling online.
 Security, accuracy of weight and purity of gold are major concerns here.
So, you should buy from reliable sources only. Banks such as ICICI Bank also sell gold online.
However, the same drawbacks related to buying from banks persist here.
Gold retailers
Corporate giants also sell gold through their outlets spread across the nation. For example, Tata has a retail chain Tanishq.
This is also a very reliable avenue and often used by companies to gift its employees.
Post offices
An extremely reliable source plus reasonable prices- Indian Postal Offices sell gold coins. Post offices of only a few cities extend this facility.
However, this avenue has the potential of reaching out to remote areas. This is because, every village, however, small it may be, has a post office. It can be a very good alternative to local jewellers.
Gold coins in lower denominations (0.5 grams, 1.0 grams, 5.0 grams and 8.0 grams) are also sold here so that most people can afford purchasing gold from post offices.
At present post offices in the following cities sell gold coins: Delhi, Ahmedabad, Surat, Baroda, Pune, Nashik, Nagpur, Mumbai, Chennai, Trichy, Coimbatore, Salem and Madurai.