The government is giving top priority to making available 581 MMSCMD of gas required by power projects in the country, Rajya Sabha was informed on Tuesday.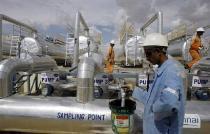 "As of today power projects in the country require 581 MMSCMD of gas, but it is not available. It is a priority area for the government and we are making efforts to make it available," Minister of State for Petroleum and Natural Gas Jitin Prasada said during Question Hour.
"If we get this much quantity of gas, then India will be able to generate 1,21,000 MW electricity and we will be able to even supply power to other nations,"
Prasada said.
He also said that providing gas to fertiliser plants was another priority before the government.
To a supplementary, he said the government's focus was on eastern and southern regions and wherever there was shortage of gas, the matter was being addressed.
He said power plants in Uttar Pradesh too were being provided gas as the state was also in his ministry's priority list.
The minister said allocation of natural gas from KG D6 field is decided by the eGoM constituted to deal with issues related to commercial usage of gas.
"Since the demand to meet the shortfall of existing assets in different sectors is more than the available gas, the eGoM has decided that KG D6 gas will be firstly allocated to existing plants," he said.