India and Japan are likely to sign an ambitious bilateral market opening pact to enhance their $10.4-billion trade during Prime Minister Manmohan Singh's visit to that country in October.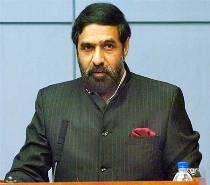 India's Commerce Secretary Rahul Khullar would be travelling to Tokyo in the first week of September for an "in-principal agreement" on the proposed Comprehensive Economic Partnership Agreement.
"We are looking forward to reach an in-principal agreement (during Khullar's visit), which can be formalised as per the mandate of the last Prime Ministerial Summit in New Delhi in December 2009, at the time of next summit when the Prime Minister is scheduled to travel to Japan in the third week of October for that summit," Commerce and Industry Minister Anand Sharma said here.
In December last year, the two countries had decided to sign the pact in 2010. Sharma was talking to reporters after meeting Japanese Minister for Economy, Trade and Industry Masayuki Naoshima on the sidelines of Asean Economic Ministers' meet in the beach resort city.
"In our meeting, we have reviewed the bilateral relations but more important the progress in the CEPA negotiation between India and Japan," he said.
The two countries are negotiating CEPA and the last round of talks were held in Delhi in April. Once the free-trade agreement, officially dubbed as CEPA, is signed and operationalised, as many 9,000 products -- ranging from steel and apparel to drugs and machinery -- are expected to be traded either without duty or at substantially reduced tariffs.
Sharma is visiting Vietnam to review the ongoing negotiations for a India-ASEAN trade pact in services and investments. "They (negotiations) have been slow but they are not stalled," he said, adding he and other Asean ministers would be reviewing the progress in the services and investment trade pact negotiations.
After signing a free-trade pact for goods last August, the two sides are engaged in talks to widen the agreement to include services and investments at the earliest.
Services account for about 55 per cent of India's GDP, while exports from the sector were valued at $93.7 billion in 2009-10.
Sharma is also slated to meet trade/commerce ministers of the countries representing the East Asia Summit (EAS) during this visit. EAS is a formation of 10-Asean members and Australia, China, India, Japan, New Zealand and South Korea.