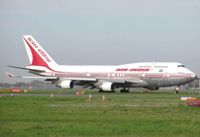 The growth in air travel in the Asia-Pacific region has eclipsed that in the largest aviation market of the US, with the airline industry in the eastern part of the world preparing to show a comeback by drastically reducing its losses.
In its report, the International Air Transport Association said that in 2009 intra-Asia-Pacific travellers numbered 647 million compared to 638 million who travelled within North America, including domestic markets.
"By 2013, an additional 217 million travellers are expected to take to the skies within AsiaPacific," the IATA has estimated.
It said the global aviation industry was expected to reduce losses from $11 billion in 2009 to $5.6 billion in 2010.
The loss reduction is being led by Asia-Pacifics carriers who are expected to see their losses shrink from $3.4 billion in 2009 to $700 million in 2010.
"Asia-Pacifics prospects are improving faster than other regions," IATA's director general and CEO Giovanni Bisignani said at the Singapore Air Show.
The region's two biggest growth markets India and China faced 'completely different circumstances'.
"India's challenge is to reduce costs and improve infrastructure, while China is adjusting to new global trade patterns," Bisignani said, but warned that in the longer term, Asia-Pacific would also face global challenges including environment, security and liberalisation.