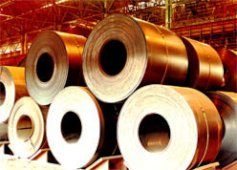 Steel Authority of India Limited said on Wednesday it has hiked steel prices by Rs 500 a tonne effective from February 1.
"SAIL has increased the prices of its flat steel products (primarily used by automobile and consumer durable industries) by Rs 500 a tonne, effective from February 1," a company spokesperson said.
There is no change in prices of long steel products, consumed mainly by the infrastructure and construction firms.
The spokesperson said priced were hiked following firming global trend and rising demand in the domestic market.
SAIL had last month ruled out any reduction in domestic steel prices in the near-term citing improvement in the demand scenario and rising input costs.
Steel firms, including Tata Steel and SAIL, had increased prices of their different products by up to Rs 4,500 a tonne in the past two months, raising inflationary concerns and prompting the government to term the price hike as speculative.
Domestic steel price is in the range of Rs 26,000-35,000 tonne.