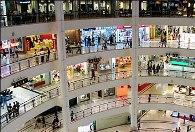 With necessity being the mother of invention, commercial property developers are going off the beaten track to meet the challenge of a huge sales slowdown.
Builders are also becoming brokers, helping prospective buyers in finding tenants for commercial property.
By ensuring an assured income from the property, the builder is able to sell it quickly, said Anuj Puri, chairman and country head, Jones Lang LaSalle Meghraj.
Obviously, buyers are looking at steady incomes from day one. Puri says, "Buyers are only looking at properties that are going to be on lease for at least the next two-three years."
So, builders are first renting out commercial properties, in many cases for at least two-three years, and once the rental income stabilises, they are approaching buyers.
This helps the builder as high net worth individuals (HNIs), who are investing in such properties, are assured of an annual income from the property. Parag Munot, managing director, Kalpataru Ltd, says, "Earlier, investors were not sure about the direction of rentals, but now yield-based transactions are taking place."
Also, buyers are discerning. The tenant has to be of the top breed, preferably big Indian or multinational companies. The building has to be of high quality. And, rentals have to be reasonable and in tune with market conditions.
For example, peak rentals at Mumbai's Bandra Kurla Complex were Rs 335 a sq ft a couple of years before. These have slipped to Rs 250 a sq ft. So, a builder who tries to push a property that is giving rentals of Rs 320 or 330 per sq ft is not likely to find many takers.
Buyers are aware that occupants of such overpriced properties might exit. Industry sources said that in the past six months this trend has caught on in Tier-1 cities like Mumbai, Bangalore and Delhi because of oversupply.
According to experts, there is a vacancy of over 10 per cent in all the major cities. In Mumbai, the vacancy is 12 per cent.
This oversupply might continue for some time. In Mumbai, eight million sq ft were added in 2009. Industry players estimate another 11 million sq ft would hit the market in 2010.
"The good part is that in every quarter, there is some reduction in the estimates because builders are beginning to realise that the oversupply condition will hurt them.
As a result, projects are being delayed or commercial properties are being converted to residential places," said a property dealer.
In a December report, DTZ Research said that vacancy levels, despite healthy absorption, will increase in the first half of 2010 and then stabilise or fall in the latter part of the year. Vacancy rates in secondary business districts, such as Nehru Place in New Delhi, increased from 12 per cent in the third quarter in 2009 to 21 per cent in the fourth quarter.
The trend of buyers becoming brokers has not caught on so much in the residential market because of lower yields. "Residential property gives 5-6 per cent returns, which is not sufficient for buyers," said a property broker.