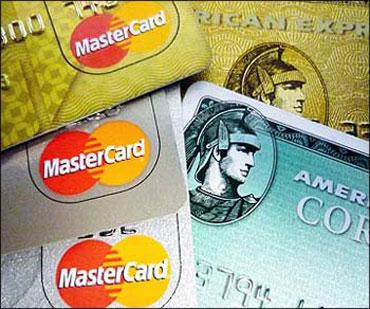 A credit card is a good alternative to make payments when you are short of cash. If managed well, it is one financial product you will truly admire.
However, choosing the right card could be quite a challenge, considering the wide range of choices available (Standard, Premium, Silver, Gold, Platinum, Titanium etc). And salespersons relentlessly push the card they want to sell.
Play it smart -- rather than falling prey to the spiel, walk the extra mile and choose the one you want.
Picking the right card
How different types of credit cards stack up on interest rate and other features
The groundwork
The important factors that decide whether you will get a credit card are your residence and your profession. If you reside in a locality that is blacklisted (on grounds of poor credit history) by the card-issuing bank, chances of your getting a card are less.
Banks are also hesitant in issuing credit cards to individuals in certain professions. Also, if you have been servicing other lines of credit, the bank will take a look at your credit history. Lastly, the credit limit the bank gives you is, in most cases, a function of your profile.
A question you need to ask yourself is why exactly you need a card. This will enable you choose the right card for you.
High fuel consumption. In this case, you should ideally opt for Titanium cards and above. That's because petrol surcharge is usually waived off on fuel bought with such cards. If you are not eligible for Titanium cards and above, the next option should be a Gold card.
Common Gold cards suiting your fuel needs are co-branded cards such as Citibank-Indian Oil Credit Card and ICICI Bank-Hindustan Petroleum Credit Card. However, note that surcharge waiver has an upper limit (Rs 250 in most cases).
Frequent flying. If you fall in this category, you will normally qualify for a Platinum card and above. Choices include the Citibank Jet Airways Platinum Card, ICICI Bank British Airways American Express Credit Card and the ABN AMRO Makemytrip.com Titanium Card. Usually, these cards provide benefits like upgrade vouchers, privileged check-in at airports and access to premium airport lounges.
You are a shopaholic. If you belong here, you need to look at two important things: the bank's cash back policy and the additional benefits. For example, if you shop with the Manhattan Platinum card, you get 5 per cent cash back.
Clearly, selection of the card specific to your requirements holds the key.
Last but not least
Besides the above factors, you need to look at a few other things, the paramount being the rate of interest on revolving credit. You should then look at the ease of making payments, late payment fee charges, free credit days etc.
Credit cards up to Titanium are free for life. However, those starting from Platinum and above usually have joining and annual fees. But these cards do offer a host of other benefits like free accident covers.
While applying for a credit card, opt for one that carries a photo, if it is being offered. This reduces the chances of your card being misused at merchant establishments by any other person.
Remember, once you have started using a credit card, make every effort to pay the total amount due in full before the due date of payment. Delay in making regular payments not only affects your credit history; it also does not let you make use of the free credit days' facility.