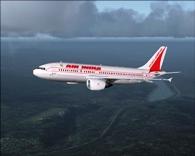 The Indian aviation sector, which was growing over 20 per cent a year, was pretty badly hit by the global economic crisis.
In 2005-07, most of the operating airlines forayed in to the sector: Vijay Mallya's Kingfisher Airlines, Kansagra family's SpiceJet, Interglobe Enterprises-promoted IndiGo Airlines and Wadia Group's GoAir.
In a zeal to become umber one, they started going all out, and the first round of consolidation took place just before the stock market crash in 2008. Jet Airways bought Sahara Airlines and Kingfisher snared Deccan Aviation. Though this consolidation added capacities to both these players, it has also hurt them.
Only three airlines - Jet Airways, Kingfisher Airlines and SpiceJet - out of the six operating in India are listed. The other three are Air India, IndiGo Airlines and GoAir.
Airlines are of two types - Full service carriers (FSC) and Low-cost carriers (LCC). Premium carriers, including Air India, Jet Airways and Kingfisher, fall under this category and have a high operating cost structure, therefore, are expensive.
Captain GR Gopinath started the first LCC Air Deccan, later rechristened as Deccan Aviation, in 2003. Contrary to premium carriers, these carriers are supposed to have a low operating cost structure.
However, this does not hold true for Indian aviation sector. LCCs are supposed to have lower operational and navigation charges, low government taxes and need a different infrastructure with lower airport charges.
But in India, though ticket price for these airlines is lesser, their expenses are almost at par with the full service carriers. SpiceJet, IndiGo and GoAir are LCCs.
Being a part of the travel industry, aviation business is highly capital intensive, but cyclical in nature. So analysts are quite wary. "It is not very attractive for investment. If one wants to look at an aviation stock, a medium-term view should be fair. Right now, the airlines are looking up, may be one could enter now and exit after booking a decent profit," said an analyst.
There are limited options here. Out of the three listed players, only two airlines - Jet Airways and SpiceJet - are tracked by brokerage firms.
For investors interested in aviation stocks, here are few indicators that can help take a final call.
Crude price: Fuel, or aviation turbine fuel (ATF), expenses form around 40-50 per cent of the total expense. Therefore, the airline business is very sensitive to international crude price movement. Add to that, varied sales taxes, levied by each state government in the range of 4-25 per cent, also act as a dampener.
When crude price rose in 2008, airlines' profits started shrinking. More so, because most airlines were relatively new in the business, but had undergone major capacity expansions. Result: Huge debt in their books.
Economic conditions: In a buoyant economy, business travel is a major revenue generator for airlines as corporates strike annual deals with airlines. Airlines earn well despite giving discounts on these deals. A good number of business trips happen last minute, too, and spot fares are quite high. However, when the tide turns, travel industry takes the hit first. 
Debt: An important pointer. Excessive capacity expansion during the boom time meant huge debts on airlines' books. Jet Airways debt to equity ratio was about 7:1 as on December 2009. And analysts, like Mahantesh Sabarad of Centrum Broking, feel that Jet Airway will need at least a couple of years to be debt free.
Analysts say SpiceJet is 'virtually debt free'. "It has mostly foreign currency convertible bonds (FCCBs), which is like quasi debt and once converted, SpiceJet would be debt free," said Sabarad.
Jet Airways has gotten the government approval to rise $400 million via global depository receipts (GDRs). Kingfisher Airlines is also going to raise Rs 400 crore via rights issue.
Routes: International travel contributes maximum to an airline business. Almost 50 per cent of an airline's revenue comes from its international business. Reason: Longer flying hours and hence, high ticket prices.
Given that the international flying permission is given only after five years of operation and a minimum fleet of 20 aircrafts, many of these airlines, which entered the sector in 2005, will get it this year.
It will take some time for debt-laden airlines to show a healthier balance sheet. So investors need to be careful before going on a buying spree.