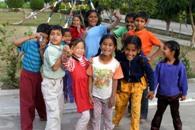 In this era of rapid change, the education of children has become a major component of financial planning.
For instance, in 2009, all the Indian Institutes of Mangement hiked their annual fees by Rs 75,000-4 lakh. In percentage terms, they were quite hefty hikes. Both IIM Calcutta and IIM Lucknow hiked their fees from Rs 5 to Rs 9 lakh in a single year -- a 80 per cent hike.
Others like, IIM Ahmedabad increased their fees from Rs 11.5 lakh to 12.5 lakh. No wonder, parents, whose children are aspiring to be management graduates, can suddenly fund their numbers going completely berserk.
In such circumstances, it is important that parents start early to ensure that there are no hiccups at the final stages. And that implies planning well in advance. Some points that will help in this planning:
EARLY START
Most people associate financial planning in education only with college and postgraduate expenses. But this is not so.
Pre-school attendance in the form of playgroups are now common. There are significant costs from this stage itself, which can easily go up to Rs 25,000 per term. The option is safe and secure debt instruments, that have the feature of accessibility when required.
PLANNING FOR EXPENSES
The expenses intensify as the child enters school and this part has to be properly provided for. Apart from admission and tuition fees, there are a lot of additional heads -- uniform, school bus, stationary and so on. These could be in the range of Rs 50,000 to Rs 500,000 a year during the school years.
With the advent of international education, costs will rise further. One way is through a pay-as-you-go effort, whereby the expense is met from regular income. But this policy is fraught with risks. It is better if a regular amount is set aside each year that becomes available over a period of time. Since the payment requirement for such portfolio will stretch over 10 years, a variety of options like bonds, mutual funds and stocks can be deployed.
AIMING FOR THE SKY
An increasing number are sending their children abroad right from this stage, to get a good education. This stage requires adequate use of equity in the portfolio to deliver growth over the years, as there is a long time frame till this stage comes into play.
The period of college education would mean four-five years, depending on the country where the child is studying. The expense will also vary significantly, but for good universities abroad, it can go up to $50,000 a year, which means Rs 22-24 lakh.
The best way to provide for this is by ensuring a lumpsum comes in each year during the period when the child is of this age. An important point is also that parents will need to plan for various stages simultaneously and they do not have the luxury of saying, first we will plan for school and then move ahead.
THE BACKUP
This is the traditional area where educational planning took place, but is now just a part of the overall process. Even in India, these expenses are rising and except for a few courses like chartered accountancy, most of the other areas require spending in lakhs of rupees. For example, a two-year stint at an MBA institute, including IIMs, will mean an expense in the range of Rs 6-12 lakh, depending upon the institute chosen.
There can be a variety of areas used for planning these expenses and there is also a lot of time for the efforts to be put into effect, which can be anything from 15-20 years, depending on when the process is started. A mixture of long-term debt and equity would be essential for this purpose, using a wide array of instruments.
The better the planning here, the lower will be the reliance on loans for education. Another point is that at all stages of the planning process, there has to be a safety element built in through the use of insurance on the life of the parent. This is important, as there has to be a situation where there is no disruption of the education of the child under any circumstances.
The writer is a certified financial analyst.