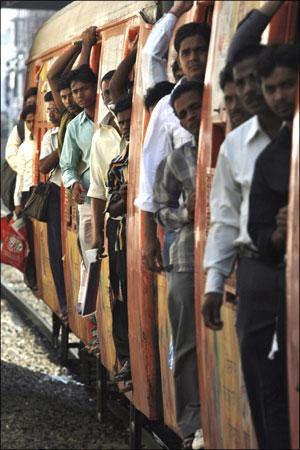 The Railway Budget 2010 presented to Parliament on Wednesday by Railway Minister Mamata Banerjee, has been received with glee by most people.
Travellers are happy as there is no hike in prices; industry is happy as there is no increase in tariff for goods too; the manufacturing industry is happy as there are hints to include more private companies in the production of railway related equipments; railway support staff like porters will be a happy lot as they will now be covered by health insurance schemes; existing and prospective contractors for the Railways are going to be happy as the a Special Task Force has been proposed for speedy implementation of projects.
Too much promised!
If it is true that 117 of the 122 trains that our Railway Minister promised will be launched before the 31st of March 2010, then credits go to her that she had not just made lofty speeches but also made her team work to achieve her targets. Way to go, Madam!
As with the Special Task Force to hasten the implementation of projects, hopefully we will have a faster infrastructure building for the Indian Railways in future.
Today we have tens if not hundreds of railway over-bridges which are waiting to be completed for more than 5 years due to the delay from the railways to finish their work.
To automate /man all unmanned level crossing in the next 5 years is a challenge that the Minister has taken upon herself. A progress report on a yearly basis will need to be made for this, as the same team may not be at the helm of affairs after the 5 years.
Technology & infrastructure improvement
The proposal to tie up with IIMs and the DRDO for technology development is a welcome measure.
Improvement related to the basic amenities as announced is good to hear on one side. It is a heart-break on the other side to know that basic amenities providing like clean toilets and drinking water are being discussed in the Parliament. Don't these need to be provided as default?
Sports support
A very positive social development effort is to set up several (5) sports development centers and to support hockey by supplying astro-turf. These are much needed support to develop the sports infrastructure in India. Setting such examples will take India to more victory stands in the international arena. Hope more large PSUs take it on themselves to support sports academies and adopt a specific sport for its development in India.
New business model
Our minister has promised a new model for the Indian Railways. But she has said she is not looking at privatization. She has also not given much detail on what this new model is.
It would be great to hear more from her on the model. Also, India is eager to know about the role that the private sector can play in the new model.
Funding for growth
With so many ambitious plans the funds for the expansion proposed at Rs 4,411 crore (Rs 44.11 billion) looks very less. Hope Mamata Banerjee has got her numbers tallied up for different projects. Also the increase in the expenditure for the next year at a mere 4.4 per cent makes one question the numbers again.
Probably the efforts to reduce the expenses like employing ex-service men in the railway protection force and using CFL lamps may help a bit. More such environment friendly and people friendly efforts will be required.
Nothing has been mentioned about the potential earnings and leveraging of RailTel and its optic fibre network. This is a revenue earner that can be leveraged to make much more money than what it is earning now.
But happy, overall
Whatever may be the proposal, however good a budget may be, there are always going to be some areas missed and there are always going to be some people who are not satisfied. 
The Railway Budget 2010, has made more people happy than those who are negatively affected. That way it is a success. It is also a success, as it has touched on more issues and also in more depth than the previous Railway Budgets.
Overall, it is a commendable effort.
Image: Commuters travel in a suburban train in Mumbai. Photograph: Arko Datta/Reuters