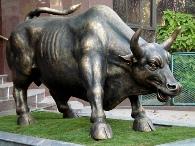 Shares of commodities companies had a wonderful run in 2009 and moved from being an investment pariah to the most favoured in just nine months (from April to December).
The BSE metal index, though yet to touch its 2007 highs, topped the sectoral gainers with an appreciation of 233 per cent. Steel, non-ferrous metals and mining and mineral stocks registered a smart recovery with a 206 per cent gain.
These sectors increased shareholders' wealth by over Rs 345,000 crore (Rs 3450 billion) after a massive erosion of Rs 469,000 crore (Rs 4690 billion) in 2008. The information technology sector came out of the sub-prime-based US recession and added Rs 328,000 crore (Rs 3280 billion) to shareholders' wealth.
Banks, with 202 per cent annual gain, created Rs 269,860 crore (Rs 2698.60 billion) for shareholders.
Steel, non-ferrous metals, coke, automobiles, auto ancillaries, technology and consumer-oriented sectors such as breweries, hatcheries and airlines also created massive wealth in 2009.
All these sectors increased shareholders' wealth by 150-300 per cent in 2009.
Automobiles, fast moving consumer goods, hatcheries, pharmaceuticals, sugar and technology indices recovered fully while others were 20-30 per cent off the 2007 levels till the end of the year.
For an academic interest, the BSE Sensex was almost 3,800 points away from its all-time peak of 21,200.     
Overall, equity investors recovered 65 per cent, or Rs 28.56 lakh crore, wealth out of the Rs 44.96 lakh crore that they lost in 2008.
Among sectoral indices, automobiles, fast moving consumer goods, pharmaceuticals and technology recovered fully and were trading at all-time highs, while others, including Sensex and BSE-500 index, were 25-50 per cent below their December 2007 levels.
With the economy expected to grow over 8 per cent from now, it is likely that the market will fully retrace its previous all-time high in 2010. So, investors should be ready for a 20 per cent-plus appreciation in the New Year.
While commodities, banks and information technology created wealth for investors, the telecom sector, which is struggling to maintain its revenue per mobile user, was the worst performing sector in 2009.
The telecom companies shaved off Rs 22,784 crore (Rs 227.84 billion) shareholders' wealth in 2009 on the top of a massive value erosion of Rs 213,600 crore (Rs 2136 billion) in 2008.
Though the Sensex appreciated by over 80 per cent, listed brokerages underperformed on subdued volumes in the secondary market as companies raised Rs 65,000 crore (Rs 650 billion) in 2009 through primary sources.
Ashu Madan, president, equity broking, Religare Enterprises, said, "India's strength is mass consumption and companies or industries dependent on mass consumption such as steel, automobile and FMCG have done well in 2009."
On the outlook for 2010, he said FMCG and pharmaceuticals, which were considered as defensive so far, would emerge as strong performers due to their mass consumption appeal. Another sector that can do well is food as food prices and consumption are going up consistently, to be followed by hospitality and aviation.
India is currently enjoying a valuation premium over other emerging markets. Such premium has, however, been the trend in the recent past, says Nischal Maheshwari, head, Edelweiss Research.
Given the strong signs of growth and political stability in India, we do not think there will be any de-rating in the valuation premium India is enjoying at the moment, according to him.
"We expect earnings estimates for FY11 to continue to grow further. Even if there is no further uptick in multiples, Indian equities will keep moving up along with such earnings upgrade," he said.