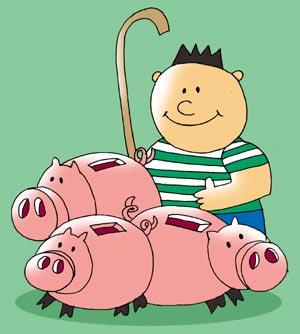 Every year comes with new investors, new companies, new products, new rules and new hopes in the market.
Also at the start of a year, an investor makes lot of promises to herself. She promises herself to follow all the discipline, do all the analysis and take all the important financial decisions from which she had been escaping due to fear or lack of interest.
Such actions might have resulted in some major losses, which will force her to change the way of dealing with money.
In the very beginning of 2010, let us have a look at some pointers for the new investment year. No one knows what 2010 has got in store for any of us.
Who can guess whether it is a good year for cement sector or debt mutual funds or whether Sensex will again experience a sub-10,000 level?
The point is not how to predict the markets, which no one can actually do, but how to keep ourselves prepared for unforeseen losses.
Tips! No-No: This is the first principle that any investor in the world should follow, irrespective of where she hails from (India, America or elsewhere), portfolio size (Rs 10,000 or Rs 50 lakh), asset class (equity, debt, real estate, gold, etc.).
Working on tips or recommendations is the shortest and easiest way to wealth erosion in the medium to long term.
But these tips need not be written off either! What an intelligent investor should take from these tips is the direction in which to do further enquiry. Which sector are the tippers pointing out at? This can give a lead and the investor can do some preliminary research to find out if the idea is worth it.
League: League signifies all big-ticket investors and other market players like brokers, advisors and analysts. These people have access to very important information, know top-notch people of companies, and make huge transactions (which can influence prices of stocks significantly) and what not. Then why do we suggest not to follow them?
This is because you cannot predict when the tiger will take a turn, i.e. when they will change their decisions and sell a stock which was earlier talked about as a long-term investment.
They may otherwise pull money from equity and put in gilt mutual funds. The better way to invest is to take your own calls about investment.
Homework: What will you say to a first standard kid who says: 'I can't do my homework by myself. Mummy! Can you do it for me?' I think the answer most likely will be: 'Who is going to sit for you on the exam day?' Does not the same logic apply for us (adults) who are putting their hard-earned money in the market.
How can we not do our homework? By homework, we don't mean doing complex calculations or talking to management of the companies or scrolling through newspapers of last ten years. Not everyone who invests in the market has the time and interest to do due diligence. 
But at least having a look at the company's financials, people and industry can give a fair idea about what kind of an investment it will turn out to be. What if ABC Securities Ltd. suggests you that buy Avtaar Technologies, which is the next IBM in the making.
Will you ask him to put in Rs 20,000 or should you at least find out some information about the company from any of the countless financial sites, look at its past profits, who are the major shareholders, size of the company, etc.
Each investor in the market has its own checklist, but at least having a checklist is just about the minimum requirement for an investor.
Back to Maths: No one, absolutely no one, can deny the importance of numbers in the world of finance. But very few retail investors are aware of which numbers to look at and how. There can be a tutorial dedicated to financial analysis.
However, having an understanding of investment variables is what is required, which depend on the type of investment. Say for e.g. in bonds you should know what is a coupon rate, yield, maturity, duration, credit rating, etc.
In mutual funds, expense ratio, NAV, management fee, closing date, etc. In stocks there can be 'n' number of variable but common ones include EPS, P/E ratio, 52-week high/low, etc.
You should know what a balance sheet, profit and loss account, cash flow statement and shareholding pattern depict. It may sound a lot of work but all this for a stock can be done in not more than one hour.
Following the above pointers might not yield 100% success but can save you from assured losses. Imagine that people do net search, seek user opinions, make visits and do everything else to buy a watch or mobile which might not cost more than Rs 20,000. There are very few investors who take the effort of looking at their stock before buying it.
Every investor should take a resolution that he/she will be a more equipped investor in the Year 2010 and would face the market the same way as our Indian Cricket Team plays the twenty-twenty matches! And this better be a resolution that is not broken!