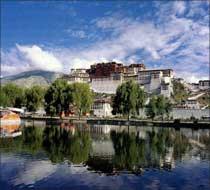 China plans to build the world's highest airport as part of a yuan 100 billion investment in Tibet in the next four years.
According to media reports the airport will be at an altitude of 4,436 meters (14,639 feet).
Construction of the airport, which is likely to cost $260 million (yuan 1.8 billion), will start in 2011.
The new airport to be built in the Nagqu prefecture -- near the middle of the Tibet-Qinghai plateau -- will be higher than Tibet's Bamda facility.
The airport, to be located about 230 kilometers (140 miles) north of capital Lhasa, will be the sixth in the remote region.