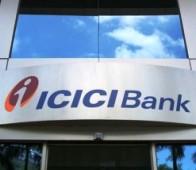 Private sector lender ICICI Bank reported on Thursday a 26.36 per cent drop in consolidated net profit at Rs 1,148.66 crore (Rs 11.48 billion) for the third quarter ended December 31.
Total income declined to Rs 14,176.84 crore (Rs 141.76 billion) during the October-December quarter, from Rs 16,922.73 crore (Rs 169.22 billion) in the year- ago period, ICICI Bank said in a filing to the Bombay Stock Exchange.
On a standalone basis, ICICI Bank posted 13.45 per cent fall in net profit at Rs 1,101.06 crore (Rs 11.01 billion) in the third quarter.
The total income decreased to Rs 7,762.71 crore (Rs 77.62 billion) during the three-month period, from Rs 10,350.62 crore (Rs 103.5 billion) in the year- ago period.
During the quarter the bank's fee income increased to Rs 1,422 crore (Rs 14.22 billion) in the Q3 FY'10, up by 6 per cent over the year- ago period.
Shares of ICICI Bank were trading at Rs 853.25, down 2.72 per cent over previous closing on the BSE.