Diesel prices will have to be hiked by another Rs 3.14 per litre if the government is to implement its decision to decontrol diesel rates, like it has done in the case of petrol.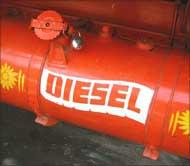 When an Empowered Group of Ministers (EGoM) on June 25 decided to raise diesel price by Rs 2 per litre in preparation for an eventual freeing of rates from government control, the gap between domestic rates and the imported cost was over Rs 3.50 per litre.
The calculations done on June 25 were mostly based on the average international price in the first fortnight of June.
After the hike, the gap had narrowed to just Rs 1.50 a litre.
"Today, the under-recovery on diesel is Rs 3.14 per litre," B M Bansal, chairman of Indian Oil said on Thursday.
This is because from today (Thursday), the rates are calculated on the basis of the average of the second fortnight of June, when global oil prices had firmed up.
Bansal said the under-recovery on kerosene is Rs 15.60 per litre, while it is Rs 201.80 per 14.2-kg LPG cylinder.
IOC, Bharat Petroleum and Hindustan Petroleum were projected to lose around Rs 53,000 crore (Rs 530 billion) on selling fuel below cost this fiscal after the EGoM decision to free petrol price led to a Rs 3.50 a litre hike in the rates in Delhi, an Rs 2 per litre increase in diesel prices, an Rs 3 per litre rise in kerosene rates and a Rs 35 per cylinder increase in the cost of LPG.
But the industry is now projected to lose Rs 57,700 crore (Rs 577 billion) this fiscal on selling diesel, LPG and kerosene below cost, with IOC alone projected to lose Rs 32,250 crore (Rs 322.5 billion) in 2010-11.
Oil secretary S Sundareshan said the government had not decided to limit the subsidy on diesel to Rs 1.50 per litre and pass on the remaining required hike to the consumers.
"The decision of the EGoM is that diesel price will be market-determined. As of now the price has been raised by Rs 2 per litre. We are following that," he said.
The actual decontrol will happen in "future", he said, without giving a timeline.
The talks of limiting subsidy on diesel to Rs 1.50 per litre was a "personal opinion" of Chief Economic Advisor Kaushik Basu, he said.