Three months after signing a $7.6 billion pact for a gas pipeline with Iran bilaterally, Pakistan has hinted that India had "pulled out" of the trilateral project under US pressure and said it could still join.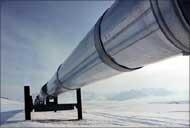 "We never stopped India to be part of it (Iran-Pakistan-India gas pipeline project). India, on its own, accord pulled out," Foreign Minister Shah Mahmood Qureshi told PTI in an interview in Islamabad.
He contended that India "pulled out for obvious reasons" but did not elaborate despite being asked repeatedly, saying "you know it". Qureshi was apparently hinting at the US which has been asking India and Pakistan not to go ahead with the project, saying it would benefit economically the Persian country which is under four rounds of UN sanctions.
India maintains that it wants to be part of the project but cannot go ahead till its concerns with regard to security and issues related to pricing of gas are addressed.
Negotiations for the IPI project have been going on since 2005 but India has not been participating in the talks since 2007 citing its concerns. Pakistan and Iran signed on March 17 the $7.6 billion deal under which a pipeline will be constructed between Iran's South Fars gas field and southern Balochistan and Sindh provinces to bring the natural resource to Pakistan.
Under the deal, 750 million cubic feet of gas will be supplied to Pakistan daily from Iran by mid-2015. Qureshi said Iran and Pakistan had done their utmost to get India into the negotiations but "when India showed reluctance, bilaterally we went ahead and signed the agreement."
Asked whether India can join later, he said, "Yes, you are welcome, there is provision for that." India and Iran, which has the second-largest known gas reserves in the world after Russia, have held several rounds of talks but the former's concerns could not be addressed.
The issue is likely to figure again at the India-Iran Joint Commission meeting to be held in New Delhi next month. India has been boycotting formal talks on the project since 2007 over security concerns.
It recently sought to revive the talks and proposed dialogue with Iran to discuss impediments in implementation of the pipeline project. India wants Iran to be responsible for safe passage of gas through 1,035-km pipeline in Pakistan and would pay for the fuel only when it is delivered at Indian border.
Iran, on the other hand, has suggested a trilateral mechanism, meaning contractual provisions among three countries, to ensure safe delivery of gas to India. Under this system, New Delhi pays for its share of gas even if the supplies were to be disrupted in Pakistan.