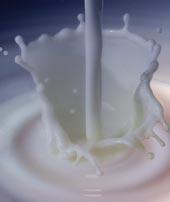 Consumers in Delhi and Gujarat will have to cough up more for milk as Gujarat Co-operative Milk Marketing Federation (GCMMF), which owns and markets Amul brand of milk and milk products in the country, has decided to raise the retail prices of milk in these two markets.
Full cream milk, sold under the brand name Amul Gold, will get costlier by Rs 2 per litre at Rs 32 per litre as against the current price of Rs 30 per litre. The new rates will be effective from July 4 in Delhi markets.
"Apart from Delhi, Gujarat will also see retail milk prices moving up in the second week of July," said sources privy to the development. In Gujarat prices of toned milk and double toned milk will be increased by Rs 1 per litre and full cream and standardised milk prices by Rs 2 per litre.
Post hike, Amul Gold will be available for Rs 30 per litre as against Rs 28 per litre at present, while Amul Shakti will be charged Rs 28 per litre from current Rs 26 per litre. "However, the milk prices in Gujarat would still be the lowest," said sources.
The decision to hike retail prices of milk has been taken in the wake of increase in milk procurement cost. "As compared to last year, the federation is now paying 30 per cent more to farmers for getting milk," said sources in GCMMF, which has 30 lakh milk pourers associated with it.
The milk pourers mainly consisting of farmers demanded higher price for supplying milk in the wake of higher cost of cattlefeed, which rose by nearly 40 per cent in the year 2009.
Recent hike in the prices of petrol and diesel is yet another factor that the federation might have taken into consideration while deciding the new rates. Transportation is a crucial factor in milk procurement and distribution. The surge in petroleum prices is poised to increase the transportation cost of GCMMF member dairies.