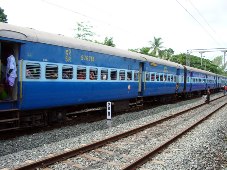 Railways have posted over seven per cent growth in earnings during the first three months of this fiscal.
During the period between April 1 to June 30, it earned Rs 22061.13 crore (Rs 220.61 billion) as compared to Rs 20610.63 crore (Rs 206.1 billion) during the same period last year, registering an increase of 7.04 per cent.
While the total goods earnings went up from Rs 13927.05 crore (Rs 139.27 billion) during this period last year to Rs 14930.11 this year, the total passenger revenue earnings also went up to Rs 6190.70, said an official statement.
Earnings from other departments stood at Rs. 626.01 crore (Rs 6.26 billion) during this period.
The release said approximate number of passenger bookings during April-June 2010 stood at 1937.22 million compared to 1836.51 million during the same period last year, showing an increase of 5.48 per cent.
In the suburban and non-suburban sectors, the number of passengers booked during this period were 965.05 million and 972.17 million respectively.