Fiat India on Tuesday said that it is planning to export its cars in South Asian Association for Regional Cooperation (SAARC) countries to boost its export volumes.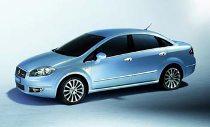 "We are planning to export our cars Palio, Linea and Punto to SAARC countries including Nepal, Bhutan, Sri Lanka, Bangladesh as these are right hand driving countries," said  Fiat India Marketing Head Tarun Khanna.
The company had exported over 2,000 units to South Africa, including 1,100 units of Punto, 360 units of Linea and 650 units of Palio.
"We began exporting last year only and so far we have exported only to South Africa", he said.
Khanna said that the company is planning to roll out high powered version of Linea and CNG Punto after launching two variants of Grand Punto this year.
However, he declined to give any time frame for these launches.
Fiat India, a joint venture between Fiat and Tata Motors, is eyeing sale of 40,000 units this year.
"Last year, we sold 24,000 units and in this fiscal, we are looking to sell 40,000 units, which will be powered by new variants", Khanna said.
Fiat India is currently selling 2,500 units per month, out of which 1,500 units are of Punto.
The company has a production unit with a capacity of producing 2,00,000 cars and 3,00,000 engines at Ranjangaon in Pune.
Image: Fiat Linea