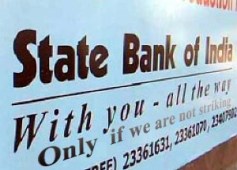 A day after the Reserve Bank of India hiked its policy rates to control inflation, country's largest lender, State Bank of India said on Wednesday deposit rates in the industry are likely to climb up as early as next month.
"There is an upward bias on the deposit rates. (Rates should move up) by August-September by atleast 0.25 per cent," SBI chairman, O P Bhatt told reporters in Mumbai on the sidelines of an event.
On Tuesday, the RBI hiked its reverse repo rate, at which it absorbs excess liquidity from the system, by a larger-than-expected 0.5 per cent to 4.5 per cent and repo rate, at which it lends to banks, by 0.25 per cent to 5.75 per cent.
Bhatt, however, ruled out any impact on SBI's margins owing to the likely jump in the deposit rates, as loan growth is also likely to pick up in the days ahead on the back of recovery in the economy, which would help the lender maintain its margins.
SBI has seen an increase in its non-performing assets especially from loans given to farmers, Bhatt said.
Talking to reporters on Tuesday after the credit policy announcement, Bhatt had said that 'by and large' interest rates are unlikely to go up in the second quarter.
Asked about the efforts to bail out the debt-ridden aviation industry, Bhatt said the bank is considering ways to give assistance to the airlines.
"Banks have been helping troubled industries from time to time," Bhatt said, without detailing further.
Earlier, speaking at the event, Bhatt said that SBI plans to open five more branches in UK over the next five months, as part of its efforts to make UK as the hub for European operations.
Last week, amid market turbulence and volatility, State Bank had raised $1 billion (about Rs 4,700 crore) through bonds from the US market, paving way for others to tap the market.
Bhatt said the bank would use this amount to lend to its corporate clients abroad, who are seeking foreign currency loans.