Disputing the claims of the Income Tax Department, telecom service provider Vodafone on Tuesday said that "no tax is payable" on the $11.1-billion deal with Hutchison in February 2007.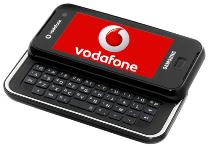 "Vodafone remains fully confident that no tax is payable by Hutchison in this transaction and that Vodafone has no liability in any event, and all the taxation and legal advice received continues to be consistent with this view," Vodafone Group said in a statement.
The I-T department, yesterday, said that it has full jurisdiction over taxing Vodafone. "We have jurisdiction over taxing Vodafone...We will send the tax demand to them within few days," Central Board of Direct Taxes chairman S S N Moorthy had said.
Though Moorthy has not mentioned the tax liability of Vodafone, it is estimated to be around $2 billion. "Vodafone will be reviewing the documents in detail. The Supreme Court granted Vodafone the right of appeal to the Bombay High Court if we disagree with the tax authorities determination," the company said.
Vodafone confirmed that it has received an order from the tax department on the preliminary issue of jurisdiction. The dispute concerns Vodafone Group Plc's acquisition of a 67 per cent stake in Hutchison Essar from Hong Kong's Hutchison Telecommunications International Ltd.
The I-T department is of the opinion that the transaction is taxable in India. Earlier, Vodafone had also approached the Supreme Court, which had refused to intervene in the tax dispute between the telecom firm and the I-T department and had asked the department to check whether it has the jurisdiction to proceed further in the tax case.
Vodafone had paid $11.1 billion for a 67 per cent stake of Hutchison in Hutchison-Essar (since renamed Vodafone Essar) in 2007.
The government approved the deal in May, 2007, itself. After regulatory clearances were given, the tax department issued a show-cause notice to Vodafone saying the company did not deduct tax, estimated at around $2 billion. In 2007, Vodafone received a show-cause notice asking it why it had not done this.
Following this, the company approached the Bombay High Court. After the high court dismissed Vodafone's petition challenging the I-T department's notice, the company moved the Supreme Court in January, 2009.
The primary question that Vodafone requested the apex court to answer was whether Indian authorities have the jurisdiction to tax a transaction that occurred outside India between two global players.