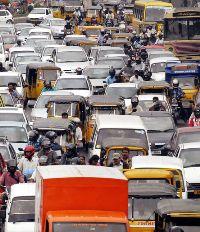 Buyers and existing owners of cars could be in for a shock. Reason: Premiums of motor insurance, both renewals and new cars, are going to rise by 10-25 per cent. Some companies have already raised their rates.
Since the removal of caps on rates ('detariffing') in 2007, say industry experts, companies  were involved in a battle for market share.
Motor insurance premiums, therefore, fell sharply. However, with the number of accidents increasing steadily, insurers are finding it unviable to keep premiums low.
S Sreenivasan, chief financial officer, Bajaj Allianz General Insurance, says: "Since detariffing, motor insurance premiums had gone down by 30 to 35 per cent. But, underwriting losses have more than doubled in the past four-five years."
The special hit could be for 'own car insurance', better known as 'comprehensive motor insurance policy'. This covers damage for both, third party and self.
Premiums are expected to go up by 10-25 per cent soon for small and mid-sized cars. ICICI Lombard and Bharti AXA General Insurance have already increased their renewal premiums, say industry sources.
According to them, if you own a five-year-old Maruti Alto (ex-showroom price of Rs 3,02,476) with an insured declared value of Rs 1,50,000, the existing yearly premium is Rs 4,500. Expect a hike of Rs 450-1,000.
Similarly for a mid-sized car, if you own a five-year-old Honda City (ex-showroom price of Rs 7,70,000) with an IDV of Rs 4 lakh, the existing annual premium is Rs 10,000.
After the hike, your premium outgo would increase by Rs 1,000-2,500. Owners of luxury cars may not have to worry immediately as their premiums are already high. But Gaurav Garg, MD and CEO, Tata AIG General Insurance, expects that even this rate will go up in the future.
"The rate hike will not be restricted to small and mid-sized cars. Even luxury cars are likely to see an increase, sooner or later," says Garg.
Motor insurance premiums depend on a lot of factors. The price of the vehicle, type, age, engine power, accessories' value and city of registration are some of these.
Usually, while the premiums are high for a new vehicle, they are lower for older vehicles because the IDV falls as well. Example: The IDV for a 2010-made Maruti Alto (ex-showroom price of Rs 3,02,476), will be Rs 2,90,000 and minimum premium will be Rs 7,500.
For a five-year-old car, the premium would be Rs 4,500 (IDV, Rs 1.5 lakh). An eight-year-old car will be a minimum of Rs 4,000 (IDV, Rs 1 lakh).
By the India Motor Tariff Act, an automobile owner is compulsorily required to have a third party insurance to pay for any damages that occur in event of an accident.
The scope of cover of the third party insurance is to pay compensation for death of bodily injuries to a third party and also damage done to his/her property.
However, the comprehensive policy which pays for damages that can occur for one's own car is the preferred option.
The latter option includes benefits of both third party cover and any damage or loss to one's own car due to fire, accident, theft, flood, earthquake, etc.
You can also get insurance for car accessories like music system and air-conditioner. However, you will have to pay additionally for these benefits.