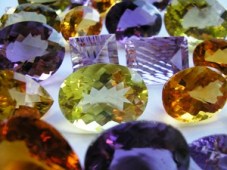 Gems and jewellery exports rose by 31.24 per cent to $2.46 billion in May on the back of jump in shipments of cut and polished diamonds.
Exports from the world's largest supplier of gems and jewellery were valued at $1.87 billion in May 2009.
Cut and polished diamonds exports grew to $1.79 billion in May, up 73.44 per cent from the previous period, according to the data by the Gems and Jewellery Export Promotion Council, the apex body of the sector.
Gems and jewellery, the number one contributor to the country's total export basket (at about 16 per cent), saw a reversal in its fortunes after demand revived in the Western markets from November 2009.
Exports were hampered severely due to the economic meltdown, which had started in September 2008.
With the recovery in global markets, the demand for gems and jewellery has seen a rise not only in traditional markets, but also new ones like Russia, China and Latin America.
The UAE is the main destination for Indian gems and jewellery, accounting for 31 per cent of the total exports, followed by Hong Kong and the US.
The gems and jewellery exports sector employs about 13 lakh (1.3 million) people. In April the export shipments had almost doubled to $2.56 billion from the previous year.
The shipments during the first two months of the current fiscal totalled $5.6 billion, up 57 per cent year on year.