Everybody is in the race to earn as much as they can. While your job or occupation generates income and is the primary source of livelihood, you can earn extra money by means of passive income.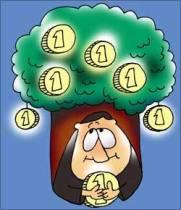 For example, the dividend income you receive from the shares you own is passive income. This is because you are not actively working everyday to earn this income.
However, you have invested in it one time and the investment earns you an income as times passes.
Any income that is not related to your daily activity is passive income. Strictly speaking, passive income includes only the  income for which one does not have to work regularly.
Passive income can help you build up wealth over a period of time.
It is also a good idea to create sources of passive income that will generate regular income for you once you retire or are unable to work for a time period.
 For example, if you have purchased an apartment for investment purposes and you let it out, the rental income you earn regularly can be utilized towards your monthly expenses when you retire.
It is important that one finds ways to make your money work for you. Create assets and investments that will work to grow your money and supplement your salary. Passive income is extremely important when you cannot work for some reason.
For example, in the event of an illness or accident, when you are not able to earn your regular salary, passive income plays a crucial role in maintaining your lifestyle.
Passive income is especially important for women. Most women take a break from their employment / occupation at certain points in their life like after marriage or having a child etc. It would boost their confidence if they earn some income even if they are not able to work for some time.
Types of Passive Income
Interest Income – This is a very basic form of passive income and can be generated by all individuals. Interest earned on savings account balance, fixed deposits, recurring deposits or bonds is a risk free source of passive income.
Rent – If you are able to invest in a flat / apartment and do not need to use it for personal purposes, you can give it on rent. Not only can you earn regular income through rent but the deposit money paid by the tenants can fetch interest income. You can also earn passive income by renting out your vehicle.
Royalty income – If you have a creative streak to you and can earn royalty for any of your work, it is a good source of passive income
Dividend Income – Investment in shares can earn you dividend income. However, these investments come with a risk of loss, therefore, investing in good reputed companies with sound financial numbers is important.
Capital gains – shares, properties also grow in value with passage of time. These assets have an ability to generate huge capital gains over time.
Residual Income – is another form of passive income. For example, an LIC agent earns commission for the entire policy tenure of the customer even if he does not actively work on it once the purchaser buys the policy.
 All and sundry – any money that you earn besides your job is passive income. Hence if you win a lottery or a competition, the income you earn is passive income. If you have a hobby of painting and you sell any of your paintings, it will generate passive income. If you are a financial controller and can take lectures or seminars in your free time it will generate income. Although, this does not strictly fall under passive income, it has great earning potential and should be considered.
Passive income is an important source of income. Therefore, one should create avenues of generating passive income even if it is very small in value. For example, you can begin with a fixed deposit of Rs 10, 000 and add to it as and when you can. The extra income can be utilised to build more wealth or simply spent on pampering yourself!