Kishore Biyani's Future Group and Tata Teleservices today started mobile telephony services under the brand name T24 (talk 24 hours). Beginning with Andhra Pradesh, the service will be sold through Future Group's retail outlets in 75 cities and 65 rural destinations in the country.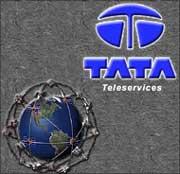 Customers at Future Group's retail stores like Pantaloons, Big Bazaar and Central will be offered this connection. The subscribers to the service will get free talk-time based on their purchases at the group's stores.
For instance, a customer will get 50 minutes free talk-time if he makes a purchase worth Rs 2,501 at Pantaloons. Similarly, a customer who spends Rs 1,501 in Big Bazaar will gain 90 minutes of free talk-time.
"Forget pre-paid and post-paid, we are going to see unpaid mobile connections," Future Group Telecom chief executive Mayur Toshniwal said.
Future Group is India's largest retailer and has been looking at ways to leverage its network of stores and base of consumers to launch new services. Tata Teleservices provides mobile telephony services in GSM as well as CDMA space. NTT DoCoMo of Japan is its partner for GSM. Virgin Mobile has launched its CDMA service in association with Tata Teleservices.
The alliance between the two is a mobile virtual network operator agreement wherein the operator does not have spectrum and network infrastructure of its own; instead, it purchases minutes of usage from an existing licensed operator and sells it under its own brand name.
"This is a unique marketing alliance between a retailer and a telecom operator in India, and offers us direct access to millions of Future Group customers through its widespread retail presence," said Tata Teleservices managing director Anil Sardana.
"Shop More, Talk More" and vice-versa is the value proposition of the T24 service. While Tata Teleservices expects to expand its customer base with this alliance, Future Group hopes to gain brand loyalty. According to Biyani, loyalty can be gained by adding mobile services, electricity and petrol to the group's portfolio.
"We have started with mobile services and will probably go for electricity and petrol in future. This is a dream," he said.
Biyani said that Future Group retail stores witnessed 250 million footfalls and 90 to 100 million transactions last year.  "We should be able to achieve penetration of 15-20 per cent," he said when asked about how many customers were expected to subscribe to the T24 service. But he did not disclose how the two partners would share the revenue.