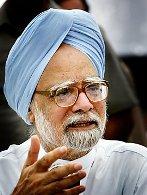 Eyeing more than nine per cent growth rate for Indian economy, Prime Minister Manmohan Singh on Monday said exciting opportunities await India and Canada for mutual cooperation to raise their bilateral trade three-fold to $15 billion within the next five years.
"Despite the global economic crisis, the Indian economy has shown resilience and is well on its way to return to an annual growth rate of 8 to 9 per cent. We wish to aim higher and are confident that all the conditions are in place to achieve such an outcome," Singh said at the banquet hosted by his Canadian counterpart Stephen Harper.
He said the socio-economic transformation of a country of the size of India within a democratic framework will have enormous repercussions for the rest of the world.
"India today seeks an external environment that is peaceful and conducive for achieving our development goals. It is within this framework that we see new and exciting possibilities for India and Canada to work together to build a better future for ourselves," he said.
After the bilateral talks with Harper, he said that both the nations resolved to achieve the annual bilateral trade of $15 billion within the next five years and encourage two-way flow of investment.
Trade between India and Canada currently stands at $5 billion. The two countries also directed their officials to examine a report on the feasibility of a Comprehensive Economic Partnership Agreement and expedite the follow up actions.
The Prime Minister said that the two countries have identified renewable energy, clean technology and energy efficiency as priority areas of co operation, besides civil nuclear co-operation, agreement on which was signed by New Delhi and Ottawa.
"The newly constituted Canada-India Energy Forum has also begun its work and has our full support," Singh said. The two countries also decided to focus on mining and agriculture, the Prime Minister said.
"I am convinced that a strong India-Canada partnership will facilitate solution to global challenges such as energy and food security...," Singh said.