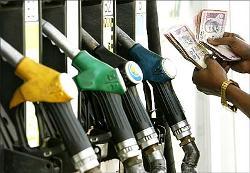 Days after freeing the prices of petrol from government control, the oil ministry said on Wednesday modalities like the periodicity of revision in rates in line with international oil movements will be decided in 2-3 weeks' time.
Unlike the decontrol of petrol and diesel prices during the National Democratic Alliance regime, when rates were adjusted by oil companies on the 1st and 16th of every month based on average international fuel prices, the oil ministry is treading cautiously this time.
"Modalities like periodicity of revision, etc, will be decided in consultation with the (state-owned) oil marketing companies in 2-3 weeks' time," Oil Secretary S Sundareshan told reporters in New Delhi.
The government had on June 25 decontrolled petrol prices, leading to a Rs 3.50 per litre increase in rates in Delhi.
It had also announced its intent to free diesel prices, but for the time being, the rates of the transport fuel have been raised by Rs 2 per litre, with ultimate decontrol being put off to a later date.
Refusing to say when diesel rates would also be freed, Sundareshan said the delay in finalising modalities for market-driven petrol prices was because the fuel was being freed 'for the first time.'
In fact, petrol and diesel prices were freed from government control for almost two years between April, 2002, and early, 2004, during the BJP-led NDA regime.
The NDA government stopped the fortnightly revision in rates a few months before the General Elections in 2004 and the United Progressive Alliance government formally brought the controls back in June, 2004.
Sundareshan said it is to be decided if the three state oil retailers -- Indian Oil, Bharat Petroleum and Hindustan Petroleum -- will fix rates in tandem or separately.
"Secondly, it needs to be seen to what extent private companies (like Reliance Industries) enter the market and thirdly, what rate the oil marketing companies will pay to their refineries for the petrol," he said.
Currently, prices of aviation turbine fuel -- which were freed from government control in April, 2002, but unlike petrol and diesel have not been regulated thereafter -- change on the 1st and 16th of every month, based on average international jet fuel rates.
For petrol and diesel, the oil public sector units calculate the desired retail price every fortnight, while the same is done for LPG and kerosene on a monthly basis.
It remains to be seen if petrol prices will also be revised every fortnight or a larger periodicity would be decided to avoid frequent changes at the retail level.