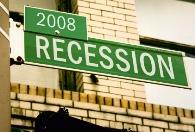 The central government-owned companies shed 31,000 employees during 2008-09, the year which witnessed global economic downturn hitting the world economies including India.
The number of people employed by the Central Public Sector Enterprises (CPSEs) came down to 15.35 lakh at the end of 2008-09 from 15.66 crore in the previous fiscal, the Public Enterprises survey has stated.
The trimming of workforce took place in a year when the overall increase in profits of the CPSEs neared Rs 1 lakh crore from Rs 91,571 crore (Rs 915.71 billion) a year ago.
The employee strength of the CPSEs has been constantly coming down since 2001-02 during which they had a staff of about 20 lakh.
"A good number of CPSEs, are faced with a hight rate of attrition, as employees are leaving to join other organisations on account of higher salaries being offered elsewhere," the survey said.
The wage bill of CPSEs went up by 28.67 per cent during 2008-09 to Rs 82,735 crore from Rs 64,300 crore in the year ago period. It also revealed that out of a total of 15.35 lakh people employed by 242 CPSEs, only 1.29 lakh were women.
Women employees at the managerial and supervisory level posts were highest in the telecommunication services (8,096) followed by petroleum sector (2,957) and coal and lignite (2,591) sectors in 2008-09.
CPSEs in the coal and lignite sector had the maximum number of employees on their roll (4.27 lakh) followed by telecommunication services (3.46 lakh) and steel (1.41 lakh). While overall staff strength in the CPSEs was reduced in 2008-09, companies in some sectors including oil, minerals, chemicals, transmission and heavy engineering added workforce.
The heavy engineering sector hired over 1,700 people and the oil sector added 1,200 workforce. As per the survey, since the introduction of voluntary retirement scheme in October 1988 to March 2009, about 6.1 lakh CPSE employees have opted for Voluntary Retirement Service (VRS).